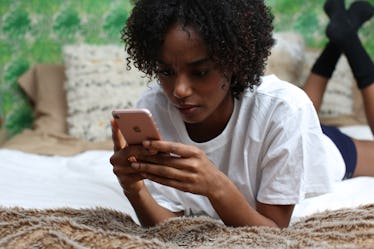 8 Things To Avoid If You & Your SO Are Long Distance At Different Colleges
Ashley Batz/Bustle
There's no denying that long-distance relationships take work. And when you're balancing classes, extracurricular activities, and a whole new set of friends, trying to maintain a long-distance relationship in college can be truly tough on both you and your partner. That's not to say it's impossible, of course. There are plenty of effective strategies for sustaining a LDR when you and your partner are at different schools. With enough patience and determination, you can not only keep your relationship going strong, but ensure that you and your partner are happier and healthier than ever — both together and apart.
If you put all your energy into your relationship, you may feel like you're missing out on your college experience. But if you don't make it a goal to communicate with your S.O. on a regular basis, the distance may become too much. The key to helping your LDR thrive is equilibrium. Whether it's striking the perfect balance between being independent and growing as a couple, or filling your partner in on your day while also finding the time to study for your midterm, it's important to make space in your life for all of your priorities: school, hobbies, friends, family, and your boyfriend or girlfriend.
When it comes to maintaining a LDR in college, there are some habits you should try your hardest not to form. Here are eight things to avoid doing when you and your partner are attending different universities — according to people who have been there.