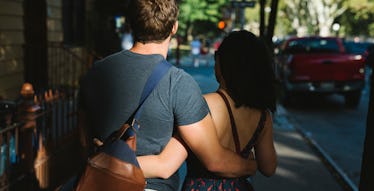 3 Things To Know About Reuniting With Your Long-Distance Partner After College
Planning, waiting, patience, communication, weekend getaways: these are the staples of a long-distance relationship, especially during college. If you and your significant other aren't in the same city during undergrad, a lot of effort goes into making sure it feels like you two aren't as far as the miles say you are. If you're finally moving to the same city after doing long-distance, you're probably thrilled — but it's important to remember that the move will have a huge impact on your relationship.
And hey, that impact will mostly be positive and amazing. Traveling to see each other will mean hopping on the subway for a few stops or trekking all the way across your new shared living room — not shelling out money for a four-hour bus ride. But finally being in the same city might mean new challenges, like figuring out if you're ready to live together or working to combine friend groups.
Remy, 24, and her partner have been dating for seven-and-a-half years. She says that dating long-distance in college was tough on her and her partner, as they both missed one another. She says, "It was particularly painful when one of us was experiencing a rough spot and needed support, which just isn't the same over FaceTime. We also texted pretty much constantly, which was tiring at times." After graduation, they both moved to the same city; below, Remy walks us through her experience and what you need to know about reuniting with your long-distance partner after college ends.