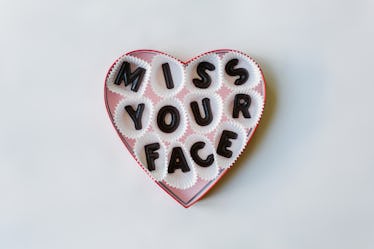 How To Do A Long-Distance Relationship When You're On Completely Different Schedules
Being away from your partner for weeks or months at a time is never easy. Long-distance relationships can really test you emotionally, whether you're a bus ride away from each other, or you live on two different continents. Perhaps the most frustrating long-distance situation is when you and your significant other are in a long-distance relationship in different time zones. Not only do you have to face all the obstacles that being in a LDR normally presents, but you also have to work around the fact that you are on two completely different schedules. This might mean having to wake up ridiculously early or stay up extra late for a quick FaceTime date with bae.
If you're struggling to maintain your long-distance relationship across time zones, don't give up just yet. I spoke to Sam Owen, relationship coach, psychologist, and author of Resilient Me: How to Worry Less and Achieve More, about how to navigate a LDR when you and your partner are on completely different schedules. By prioritizing your S.O., practicing patience and resilience, and having difficult conversations when necessary, you can make a long-distance relationship work. Oh, and maybe invest in an iPhone if you haven't already, because FaceTime truly is god's gift to long-distance couples.