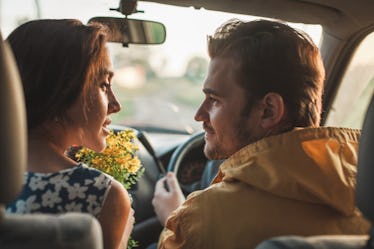 4 Tips For Making Long-Distance Relationships A Little Less Painful
Long-distance relationships are tricky business. While solid communication and trust are pillars in any relationship, LDRs demand these qualities. Yet, even the most communicative, trusting, and transparent couples are sure to struggle with the challenges of long-distance at some point (read: Jim and Pam). There's nothing worse than the feeling of not being able to wrap your arms around your boyfriend or girlfriend at the end of a long day, you know? But fret not, long-distance lovers! There are so many tricks and tips to make long-distance easier.
I would also argue that there's never been a better (dare I say easier?) time to be in an LDR with your partner. If you've got a cell phone and a mobile data plan, you can literally see their face at the touch of a button, or have a heart-shaped pizza delivered to their apartment that night. Bless Al Gore for inventing the internet. (FYI, he didn't, but he sort of claimed that he did. The more you know!)
Beyond the magic of FaceTime and food delivery, though, there are tons of ways to keep your long-distance relationship afloat — no matter how many oceans, time zones, or state borders might be sitting between you and your partner.
If you and your SO have recently decided to give long-distance a-go, or you're having a rough time bridging the gap in an ongoing LDR, here are are four ways to make it all a little less painful, and hopefully a whole lot easier to manage.