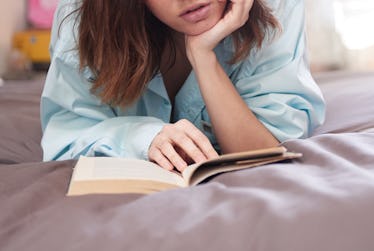 Books Coming Out In 2018 That'll Make Reading More Your New Year's Resolution
There's nothing quite like a trip to the bookstore to put a little spring in your step. From thrillers and political essays, to romance and cookbooks and everything in between, these 2018 book releases will ensure you're visiting that store very often. Go grab that warm blanket and cup of tea — your story is waiting.
You Think It, I'll Say It by Curtis Sittenfeld
From the mastermind who brought you Prep, Eligible, and American Wife comes a collection of stories that focuses on gender roles and class — subjects that definitely ring true in today's society. With a myriad of characters — an Ivy League student, a female lawyer, a mom from the suburbs — Sittenfeld will undoubtedly draw you into their world.
You Think It, I'll Say It, $27, Amazon
Still Me by JoJo Moyes
Two bestsellers and one movie later, Moyes continues the story of her beloved Louisa Clark, who ventures to the Big Apple, ready to begin life anew. What happens when this city socialite meets Joshua Ryan and secrets unfold?
Look Alive Out There by Sloane Crosley
The queen of the essay returns with a hilariously inviting new collection that will surely be a read-in-one-sitting kind of release.
Look Alive Out There, $21, Amazon
The Female Persuasion by Meg Wolitzer
A young college freshman meets a spearhead of the women's movement who takes her down a completely different path than she imagined for herself.
The Female Persuasion, $28, Amazon
Take Me With You by Andrea Gibson
Fans of Rupi Kaur need not look any further. This poetry collection of romance, uncertainty, and identity represent the essence of millennials everywhere. As an added bonus, illustrator Sarah J. Coleman (like Kaur) provides adorable pictures to accompany the text.
Take Me With You, $15, Amazon
She Regrets Nothing by Andrea Dunlop
Young Laila becomes an orphan in her early 20s, but just when she thinks she has no family left, distant relatives who lead a lavish life in New York City lead her away from her small Michigan hometown. But this family's lifestyle isn't as majestic as it appears.
She Regrets Nothing, $16, Amazon
The Immortalists by Chloe Benjamin
If someone claimed to know your last day on earth, would you want to hear it? Four siblings in the late '60s head to a fortune teller on the Lower East Side to receive their fate. Benjamin's book, a moving story of family and the unknown, follows the four siblings throughout their life, and you cannot help but get wrapped up in all of their stories. She's a young author to put on your radar.
The Immortalists, $18, Amazon
Love, Hate and Other Filters by Samira Ahmed
A deeply moving YA debut, Ahmed's novel examines the cultural divide and growing pains of a young Indian girl who wants to move to New York to pursue film studies, though her parents have far different plans.
Love, Hate and Other Filters, $19, Amazon
The Night Child by Anna Quinn
A young mother and teacher in Seattle is haunted by a face that keeps reappearing, ultimately sending her into a psychological panic as terror unfolds. Nothing like staying on your toes at the start of the new year.
The Night Child, $25, Amazon
The Queen of Hearts by Kimmery Martin
Two best friends who have been through everything together — including medical school — get a blast from their past that could change everything about their relationship.
The Queen of Hearts, $26, Amazon
The Last to Let Go by Amber Smith
Brooke is ready to head to college and start over. But what will happen when her mother gets arrested for murdering her abusive father? How will this tragedy affect her life as she comes into her own?
The Last to Let Go, $18, Amazon
Sophia of Silicon Valley by Anna Yen
With a hint of The Devil Wears Prada, Yen's novel follows a young woman leading the way in the tech industry. How will she survive a job that seems to compromise every aspect of her life?
Sophia of Silicon Valley, $27, Amazon
Well That Escalated Quickly by Franchesca Ramsey
In a collection of essays, Ramsey takes a crack at communication in the age of online bullying and all that goes along with it.
Well That Escalated Quickly, $27, Amazon
DIY Rules for a WTF World by Krista Suh
The title alone pretty much sums up 2017 in a nutshell. The leader of the Pussyhat Project teaches women how to be strong and stand up for their beliefs in this book of how-to's and reflections on her political experiences. This is a must for Nasty Women everywhere.
DIY Rules for a WTF World, $21, Amazon
The Devil's Reward by Emmanuelle de Villepin
Generations of Parisian women collide when a complex family story unravels out of control.
The Devil's Reward, $17, Amazon
Never Anyone But You by Rupert Thomson
Two young women fall in love in France during the onslaught of WWI and oddly enough end up as sisters before moving to Paris to explore art, literature, and a roller coaster of other experiences.
Never Anyone But You, $26, Amazon
VBQ—The Ultimate Vegan Barbecue Cookbook by Nadine Horn and Jörg Mayer
You can have the best of both worlds with this bad boy. Chances are, you'll be throwing a lot of get-togethers in the coming months, so get the food situation settled now with this cookbook.
VBQ — The Ultimate Vegan Barbecue Cookbook, $20, Amazon
Sometimes I Lie by Alice Feeny
Amber wakes up in a hospital bed but cannot communicate with anyone around her. Though she's not actually sure what happened, she knows it has something to do with her husband.
Sometimes I Lie, $27, Amazon
Happiness Hacks by Alex Palmer
Start the year off on a good note with these scientifically proven tips that are guaranteed to make you smile. There's nothing wrong with a little positivity.
Happiness Hacks, $15, Amazon
A False Report by T. Christian Miller & Ken Armstrong
A timely account from two Pulitzer Prize-winning journalists follows the story of a young woman who was charged with lying about her rape. These reporters dig deep to discover the truth.
Other People's Houses by Abbi Waxman
Waxman's latest focuses on a carpool that's rocked by infidelity. There are certainly a lot of secrets hidden in suburbia.
Other People's Houses, $16, Amazon
Little Book of Feminist Saints by Julia Pierpont & Manjitt Thapp
This inspiring illustrated book pays homage to 100 strong women who broke barriers despite the odds against them. Some of the women in the book include Michelle Obama, Maya Angelou, Virginia Woolf, and Malala Yousafzai.
Little Book of Feminist Saints, $15, Amazon
Brass by Xhenet Aliu
This mother-daughter story examines a high school girl's whose life is put on hold when a rejection letter from her college of choice arrives. However, not going away to school leaves time for our protagonist to question her mother about her father who was never in the picture.
This Love Story Will Self Destruct by Leslie Cohen
This novel takes the classic boy-meets-girl trope and spins it on its head. Boy and girl — opposites in every sense of the word — meet repeatedly until finally they share an intense interaction and finally endure all the ups and downs of young love.
This Love Story Will Self Destruct, $16, Amazon
All We Ever Wanted by Emily Giffin
The brains behind the bestseller and forever fan-favorite Something Borrowed releases a story about an elite Nashville family that has a little bit of trouble on its hands when its seemingly perfect son snaps a photo of a classmate that causes a major scandal.
All We Ever Wanted, $27, Amazon
The Wrong Sister by T.E. Woods
Tess seemingly finds her long-lost twin on a Wisconsin street, but if that isn't odd enough, she also discovers a body in the local marsh and aims to uncover the truth — which has frightening results.
The Wrong Sister, $16, Amazon
Love and Other Words By Christina Lauren
The writing duo behind a collection of steamy romance tales decides to take a stab at women's fiction about a pediatrics resident who is getting her life — and her wedding — in order when arguably the only love of her life reappears.
Love and Other Words, $16, Amazon
Witchmark by C.L. Polk
This fantasy debut gives readers a lot to enjoy: magic and love. Though magic provides ways for families to have complete control over their worlds, Miles Singer is looking to do things on his own terms.
The Baby Plan by Katie Rorick
Two sisters are in the pregnancy spotlight under very different circumstances. Get ready for gender reveals, sappy and irritating social media posts, and all the fun that comes along with expecting a child in the 21st century.
The Baby Plan, $16, Amazon
By the Book by Julia Sonneborn
Who doesn't love a new spin on a Jane Austen novel? Sonneborn's novel focuses on an English professor who is working on securing her tenure when her ex ends up becoming the president of her college. How's that for an unusual turn of events?
By the Book, $16, Amazon
Babylon Berlin by Volker Kutscher
This post WWII mystery — complete with flappers, mystery, and turmoil — is making its way to Netflix next year, so binge your new favorite show in its original form first.
Babylon Berlin, $13, Amazon
The Elizas by Sara Shepard
The Pretty Little Liars creator makes her debut into adult fiction with a haunting thriller where a woman must find out who attacked her and caused her to almost drown at the bottom of a pool in a hotel. It's not a suicide attempt like many think, but how can she show everyone the truth?
The Elizas, $26, Amazon
Short Circuits: Aphorisms, Fragments, and Literary Anomalies edited by James Lough & Alex Stein
These writers join forces once more to bring readers a collection short-form stories and poetry from the best in the biz: Charles Simic and Lydia Davis to name a few.
Short Circuits, $18, Amazon