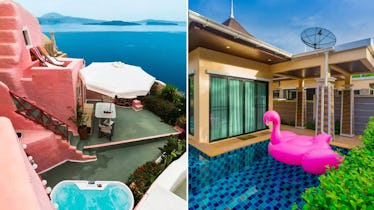 The Best Tropical Rentals On Airbnb, Because You're In Need Of Some Vitamin Sea
Thanks to this year's harsh winter, many of us are in need of a summer getaway, ASAP. There's nothing like lounging in the sand and swimming in the sea on a warm summer afternoon. Even better, if you've got a private villa to return back to at the end of the day, you're totally set. Summertime is so salty and sweet, and I really need these tropical vacation rentals on Airbnb in my life right about now.
Why opt for a hotel room when you can get a private villa with direct access to the sea? Airbnb is killing it when it comes to unique accommodation options, and its beach villas are no exception. Once you've decided on your beach destination, you'll need to begin searching for the perfect villa for you and your squad.
I know you're busy, so I've narrowed down the best tropical villas around the world to give you a head start. Some of these villas offer a full kitchen, while others offer a private chef — and all of them offer a private pool. One villa even has a flamingo float available to use, so you don't need to worry about bringing yours for that perfect Insta shot. Hit your girls up to let them know that this summer vacay is definitely happening!