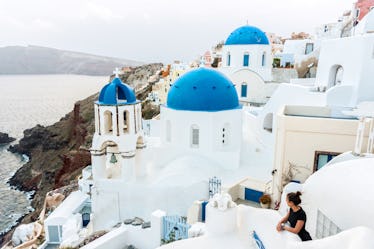 These Airbnbs In Santorini Were Made For Your Next Girls Trip
With summer right around the corner, it's time to gather your besties and plan a sisterhood-inspired girls trip. There's nothing like getting away from it all with your day ones. They've had your back at home, and now it's time to create more memories abroad that will last a lifetime. If there's one place you should have on your travel radar, it's Santorini. I'm sure you've seen those iconic white and blue homes on your Instagram feed and now it's time see them in IRL. These Airbnbs in Santorini are made for your next girls trip.
Santorini is an island unlike any place in the world. Shaped by a volcano eruption, the island's whitewashed adobe homes rest on jagged cliffs. Santorini is super unique, so naturally, it looks like it was made for the 'Gram. People typically think of Santorini as a romantic destination, but it's also perfect for a girls trip. You'll never get bored wandering through the maze of cluttered cave homes. Santorini is also known for stunning sunsets, along with unusual red sand and black sand beaches. You can feast on Greek food, visit vineyards, and sail along the island's blue waters. Basically, you and your girls will have no problem finding activities to enjoy together. A cliffside Airbnb villa in Santorini will just make your girl's trip that much more epic.