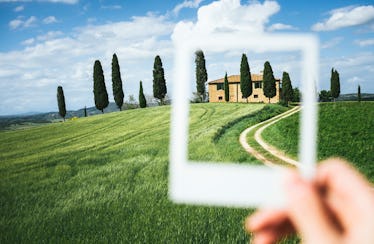 5 Villas On Airbnb That'll Make You Feel Like You're In 'Under The Tuscan Sun'
I think we can all agree that Italy is what dreams are made of. Cobblestone streets, exquisite artwork, fairy tale villages, trendy shopping, breathtaking coastlines, and mouthwatering pasta make Italy the perfect spot for a girls' getaway. You and your girls will never run out of things to do, but staying in a Tuscan villa should be at the top of your travel bucket list. I've rounded up villas in Tuscany on Airbnb for a girl's trip that you'll never forget. After all, why stay in a basic hotel when you can stay in a magical castle like the queens you all are?
You'll probably break your Fitbit record after endlessly roaming the enchanting streets of Florence and getting lost in the picture-perfect hills of Cinque Terre. Your feet will be screaming for a break after some major sightseeing, and Tuscany is the perfect getaway. Imagine toasting to your friendship with some of the world's best wine as you overlook lush green vineyards from your villa's infinity pool. If that isn't #Goals, I don't know what is.
From secluded tree houses to fancy AF castles, Airbnb has an epic list of unique villas that will give you that authentic Tuscan experience you've always dreamed of. You and your girls will be feeling like you're in Under the Tuscan Sun in just about no time.