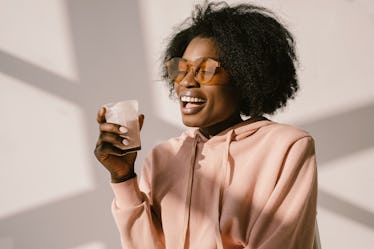 If You're Going To Start Dating Again After A Breakup, Remember These 7 Things
My latest breakup followed a date that felt like an obligation. The something's off energy we'd both been ignoring crescendoed into an unbearable discomfort during drinks at an overpriced brewery, two old episodes of The Handmaid's Tale, and completely consensual but un-intimate sex that made me feel like I was 18 again (and not in a cute way). The morning after was tense, and following some tears and raised voices, it was clear that we were donezo. Now, a few hot baths and Adele songs later, I'm feeling ready to mingle. So, if you're going to start dating again after a breakup — I totally got your back. I'm right there by your side.
Dating after a breakup looks different for everyone. Sometimes, it takes a while to feel super comfortable putting yourself out there again, and other times, it feels like you'll never meet someone else. But you are loved and will find new happiness. You have so much to offer the world, and everyone you meet is lucky to be graced by your presence. You're going to make it through this breakup, and will undoubtedly meet tons of new cuties along the way.
If you're starting to date after a breakup — here are seven things to remember.