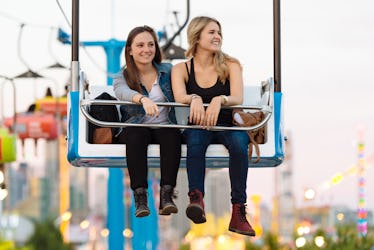 Here's When To Start Dating Again After A Breakup, According To Real Women
I've always been confused about those people who are constantly in relationships. You know what I mean. That one girl from high school who was posting a million pictures with the same guy, complete with sappy captions and millions of heart emojis, until she suddenly started posting the same captions on photos with a new guy. How did she do it? How did she move on so quickly? Is that even healthy? When are you supposed to start moving on? Well, a new Reddit thread asked women when to start dating again after a breakup, and they gave their best advice from personal experience. Hint: It'll be different for everyone.
There's no set timeline.
However long it takes me to recover and build up a relationship with someone else. I don't have a set time period because feelings change. It took me close to two years to recover from my last relationship though.
Wait until you're comfortable with yourself.
I used to be very serial monogamous type, and wouldn't go more than three months without someone I was attached to. After my last one, I told myself I needed to work on me first. 19 months single, and I can honestly say that mentally and emotionally I don't want or need a partner. Physical would be nice but it's no big deal. When I feel ready and genuinely want to have that kind of relationship, I'll seek one out, but for now I see no need to conform to a societal expectation that life doesn't truly have meaning until you settle for someone you tolerate have a committed long term partner.
So, like others have said, when I'm ready.
It could be anywhere from a day to a year.
When I'm ready. In the past that's been everywhere from 24 hours to a year and a half.
There are no hard and fast rules.
When ever you want! It's your life live it as you see fit, have fun be happy and safe. No rules on when to start dating, get back in the game.
When you meet the right person, you'll know.
When I meet somebody interesting.
Wait until life is less stressful.
I signed up for online dating where I met my husband three months after I broke up w my ex. I was ready like a week after we broke up but I was moving cities so I waited otherwise it would have been sooner.
A decade worked for this woman. (But, like, if you're ready sooner, then go for it.)
10 years
Take time to enjoy being single.
I always take 9 months, to a year. I enjoy being single, don't have a hard time being celibate, and love having time off of putting in effort to having a man around.
Wait until you meet the right person.
However long it takes me to be ready to, and to meet someone I'm interested in who's interested back. In the past that's been a couple weeks to a few months.
It's a combination of when you're ready and when your date is ready.
At least a month, but like a date isn't going to magically appear as soon as I'm ready, so like it would be many many months on average before I find someone willing to entertain the concept of going a date with me.
Dating again can be part of mourning the breakup.
It varies a little for me but around two weeks to 2 months-ish. Part of moving on for me is getting back into dating and having sex. "The best way to get over someone is to get under someone else" is true for me. It helps me a lot to be reminded I can feel good and enjoy sex with others when I'm sad about a relationship ending.
You can be ready whenever you feel like it.
Whenever I'm ready.
After my first serious relationship ended, I was ready to get back out there immediately because I'd stopped loving him long before it ended. After my last relationship ended, I took a couple months before I started trying to find something casual. I just happened to really connect with a guy I was seeing, and decided I wanted to take it to the next level.
If you were to take away one thing from this piece, let it be this: People move on in different ways at different paces. Do whatever feels right for you. If you're ready to start dating an hour after your relationship ends, go for it! If you need to take 10 years to go find yourself, that's fine, too.
Check out the entire Gen Why series and other videos on Facebook and the Bustle app across Apple TV, Roku, and Amazon Fire TV.
Check out the "Best of Elite Daily" stream in the Bustle App for more stories just like this!