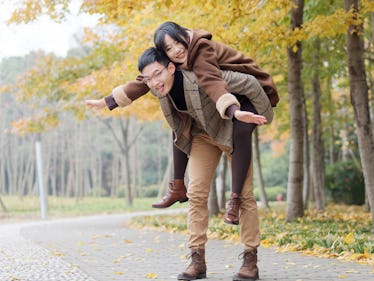 3 Zodiac Signs To Date If You Want To Get Out Of Your Comfort Zone In 2020
Shutterstock
You know the drill: You're waiting for your Bumble date at the same bar you always go to, in the same "first date" outfit you always wear, sipping on the same glass of chardonnay you always order. Sure, structure can be nice. But your love life is starting to look like an episode of Russian Doll, only without Natasha Lyonne's incredible hair. And if you want to get out of your romantic comfort zone in 2020, it's probably time to ask out a Sagittarius, Scorpio, or Gemini — aka the zodiac signs most likely to break your dating routines.
After a string of boring dates and wishy-washy texting convos, it's common to feel stuck circling around a lazy river of romance that's full of tepid water and slightly deflated rafts. And while you never need to do anything that makes you uncomfortable, sometimes switching up your romantic routine can be an exciting way to learn more about yourself and the types of relationships you're looking for.
Whether you dance all night with your Sagittarius crush or finally work up the nerve to talk to your Gemini boo about your kinks, these signs are sure to get you out of your dating routine.