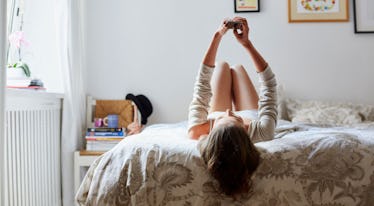 7 Signs You're In A Rut With Your Dating Life, Because It Happens To The Best Of Us
So, it's been a while since you've been on a date — or maybe it's just been a while since you were on a good date and felt like you were actually making progress in your love life. You want a relationship, but you feel like you just can't get there — and that's one of the signs you're in a dating rut. It's like you know what you want, but you're not really doing anything to get there, maybe because it's stressful or maybe because you just don't know how.
To find out more about dating ruts and how to get out of them, I reached out to Fran Greene, professional relationship coach and author of Dating Again with Courage & Confidence. One thing Greene tells Elite Daily is that it doesn't matter who you are or where you are in life — no one is immune to falling into a dating rut.
"No matter what stage of life you're in, your heart doesn't change that much," Greene says. "It really doesn't. If you think back to when you were 16, or if you're 25, the feelings are the same. It's just some of your goals are different."
The good news is, even if you relate to all of the signs below, you can still totally get back into the swing of things — you just need a little motivation to take action and put yourself out there more.