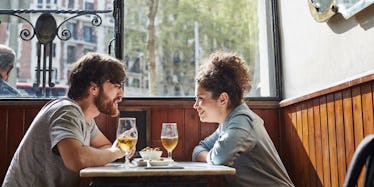 5 Reasons Online Dating Can Help You Out Of Any Romance Rut
I've met my fair share of losers on online dating sites.
I've met guys who wanted nothing more than a heartbeat to wake up next to, guys who didn't know how to start conversations and guys who lied about their ages, jobs or college educations.
Let's not even talk about the fact that half the time, they didn't even look anything like their profile photos I paid $69.99 to see.
I played online dating roulette for six months before swearing off men and concentrating on myself.
Naturally, in doing so, I found myself a boyfriend I eventually settled down with.
With so many complaints about online dating and the stigma attached to it, I can honestly say that had it not been for Match.com, I may not have found the right person to settle down with.
Here are best things about online dating:
1. It gets you into the dating scene.
It gets you out of the house and into pants that aren't leggings, and you just have fun.
Not every blind date needs to end up in a marriage proposal, but the best way to find out what you want out of an eventual marriage is to meet, hang out and talk to other people.
2. You overcome the stereotype.
People who indulge in online dating are not losers who can't find a date anywhere else.
They work full-time jobs, go to school or have nothing in common with their friends who are out binge drinking into the early morning.
They're people who know what they're looking for and have come to the best solution to find them.
3. You get some really great stories out of it.
I once went on a blind date with a guy who ordered me tap water, day-old sushi and a cappuccino, and then he proceeded to talk about how he's quit every job he's ever had.
Later, I helped him shop for a necklace in Hollister.
My point is, sometimes dates like these become great conversation starters for when you meet up for lunch with your girlfriends.
4. It makes you realize whether or not you're actually ready to get into a relationship.
For me, I was single for about three years when I finally chose to go online for dates.
What I discovered on my first real blind date was that my heart still wasn't ready to commit again.
So, I took it easy.
I only started back up when I felt like I could truly handle holding another man's hand or being considered a twosome.
5. You realize you probably won't meet your husband online, but you understand love is not a race.
For me specifically, I looked at online dating as a surefire way for me to meet someone, date, fall in love and get married.
But it didn't happen that way.
In fact, those dates only made me understand that signing up for something in hopes of settling down is the biggest way to ensure it doesn't happen.
Settling down and getting into a real, meaningful relationship isn't guaranteed just because you swipe your credit card and create a profile page you think will attract "the one."
Sure, it could definitely happen that way.
But falling in love tends to happen when you aren't looking for it, swiping right or sending a picture of his face to your girlfriends to get their opinions.
It's going to happen over time, when you're just hanging out and not expecting it.
But, I never would have learned that if I didn't go out in search of love in the first place.