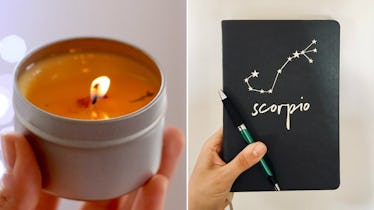 I Tried This Full Moon Ritual To Celebrate The Pink Moon & Here's What Happened
The full moon on Sunday, April 29 was a truly powerful one; it was a time to shed old habits and make room for positivity and new beginnings. This past Sunday's full moon was in Scorpio, which means there was a palpably intense, empowering energy coming from the universe, affecting all of us in one way or another down here on Earth. With so much transformative energy surrounding us, I knew I wanted to make the most of this full moon, so I tried YogaGlo's "Women's Moon Circle" ritual to harness all that lunar magic and take those spiritual vibes to the next level.
If you've never heard of YogaGlo, it's an online yoga and meditation platform that features thousands of professionally-filmed yoga, meditation, and lecture classes. What really drew my attention to the platform, though, was the Women's Moon Circle course taught by Jo Tastula, a yoga and meditation instructor. This particular course included classes dedicated to each phase of the moon, which all help you connect with the Earth, a community of women, and your own innate feminine wisdom, to help you observe and align with nature's rhythms, so you can harness all of that powerful lunar energy. I personally decided to wait until April 29 to sync up the full moon portion of the course with the actual full moon in Scorpio — otherwise known as the Pink Moon.
There were four sections of YogaGlo's full moon course in total, the first of which was a lecture from Jo Tastula on illumination and gratitude during the full moon.
She began talking to me through my computer screen in a soothing, confident voice, and right off the bat, I felt comfortable trusting her guidance. I especially liked an analogy she referenced at the beginning of her lecture, and though I'm paraphrasing, it went something like this: How you perceive things during the full moon is similar to "last call" at a bar. When they turn the lights off, Tastula explained, you're suddenly able to see everything clearly, for what it truly is. She compared this clarity to the light of the moon, and how it illuminates your perception of the world and your own emotional state. You get to see what's working for you in life, she said, and what isn't serving you.
Basically, Tastula said, the full moon's light encourages you to adopt a newfound sense of clarity for how you look at your life, and it allows you to see things the way they truly are. With that in mind, I dove into the next section of the course, which talked a lot about Lakshmi, the goddess of abundance, wealth, and prosperity. According to Tastula, Lakshmi is the goddess devoted to the full moon because she allows you to tap into and honor your natural sense of intuition. Personally, I was all about that — women's intuition for the win, y'all.
The third section of the course was a rejuvenating, fluid, full moon yoga flow, which felt incredibly therapeutic as I moved through each pose.
We frequently returned back to goddess pose with Lakshmi's mudra ( a mudra is essentially a symbolic gesture, oftentimes practiced with the hands and fingers), as pictured above, to connect with the "inner goddess" that Tastula says all women possess.
The yoga flow also included many circular arm motions, to honor the spherical and cyclical nature of the Pink Moon in Scorpio, which Tastula said is a symbol of the cycle of death, rebirth, and renewal.
The full moon practice was 30 minutes long, and it ended with a cooling yogic breathing practice called "left nostril breathing," or chandra bhedana pranayama in Sanskrit.
This was the perfect way to balance out the heat that was just built in the physical yoga practice, and prepare for the few minutes of lunar meditation toward the end of the ritual. I have to say, I usually prefer a physical yoga flow over a meditation practice, because it's a lot easier for me to quiet my mind that way, but this full moon meditation in particular was absolutely divine, and I loved it.
Tastula instructed us to sit and meditate for about five minutes, which I did with my favorite rose quartz crystal in hand.
After the seated meditation practice, she told us to pull out a journal and write a stream of consciousness about what we had just experienced and received from the full moon — no holding back, she told us. Just let any and all emotions pour out onto your piece of paper.
I used my Scorpio journal for this part of the ritual, which was pretty much perfect for the occasion.
Now, what I wrote during this time was pretty personal, so I'm not going to go into too much detail, but I will tell you this: Meditating during this Pink Moon really opened up my eyes to a lot of things in my life that I've been avoiding up until recently. This meditation made me keenly aware of a bad habit I was holding onto without even realizing it, and it provided me with accessible and logical steps I can take moving forward to free myself from this toxic habit.
Basically, Tastula was spot-on when she gave us that analogy at the beginning about the full moon being like "last call" at the bar, because that's exactly how the meditation made me feel in all of its clarifying glory.
After my journaling, Tastula offered us the opportunity to burn something, to symbolically rid ourselves of what didn't serve us, and start anew with a brand new moon cycle.
I chose palo santo wood, which is often used for its many healing, cleansing properties. If you're open to receiving its magic, palo santo can enhance your creativity and provide you with a clean, detoxified slate, brimming with good fortune. I can confidently say, as I watched the flame flicker and burn away, signifying the end of my full moon ritual, I felt a true sense of calm wash over me, one that I hadn't felt in a very, very long time.
And then, before I knew it, the full moon ritual was over. By the end, I genuinely felt so satisfied, like I'd just turned a brand new page in my life, one full of a newfound sense of mental clarity. I must admit that, after a typical meditation or yoga flow, I'm often tempted to go on my phone and mindlessly scroll through social media (because I'm still a 20-something at the end of the day, you feel me?), but I actually stayed off my phone for the entire rest of the day. It was lovely, and something I never expected to happen following this ritual.
I would absolutely use YogaGlo again to celebrate and become more in-tune with future full moons. I've also recently tried a variety of the platform's yoga classes, so it's safe to say I'm totally in love with this empowering little community.