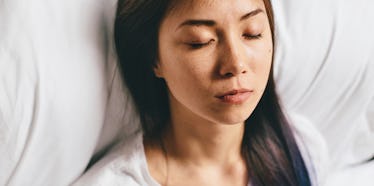 5 Breathing Techniques That Help You Sleep When It Feels Like Nothing Else Will
There aren't many things that get me all that angry; honestly, I consider myself a pretty chill person. But, being exhausted after a long, busy day and curling up under my covers, only to realize that I can't fall asleep for the life of me... that gets me pissed as hell, friends. If you're anything like me, and find yourself constantly tossing and turning in the night, implementing some breathing techniques that help you sleep while you're lying awake at night could be the wildly simple cure for your restlessness.
When you don't get enough sleep, you'll likely feel cranky AF, completely sluggish, and there can even be detrimental effects to your brain in the long run. And while some people do have legit medical conditions that prevent them from snoozing, many humans' lack of shut-eye boils down to a copious amount of cell phone use before bed and not knowing how to get those racing thoughts in your noggin to shut the heck up.
So, along with limiting cellphone usage a couple of hours before you turn in for the night, try these five breathing techniques if you're lying awake in bed and it feels like literally nothing will help you fall asleep. Because, let's be real: Counting sheep has never really helped anyone.