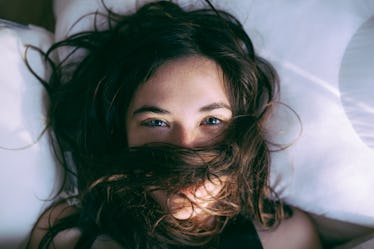 6 Things That Can Happen To Your Brain When You Don't Get Enough Sleep
I am a proud millennial. I work hard, play harder, and snooze in between the hustle. Unfortunately, though, that whole "I'll sleep when I'm dead" mantra isn't really doing us any favors outside of scoring us a solid work-life balance. And it isn't just our generation getting flack for lack of sleep, either, by the way. Anyone who isn't clocking in the recommended six to eight hours of snooze time is losing out because, the truth is, what happens to your brain when you don't sleep is actually pretty scary. Feeling discombobulated in the morning should be the least of your worries.
"The correct amount of sleep improves cognitive skills, helps the body fight off illness, increases safety, and improves a person's mood," Julia Walsh, a certified sleep consultant with Good Night Sleep Site, tells Elite Daily. "Lack of sleep decreases the ability to pay attention, motor coordination, and decision-making skills, which can make simple tasks (i.e. walking, driving, and learning new skills) dangerous."
We all know by now that quality sleep is essential if we want to feel physically and mentally healthy, but for the most part, we only feel the drowsy side effects and dire need for caffeine. Behind the scenes, though, lack of sleep does quite a number on your brain, and the following potential long-term effects are really concerning. Here's what could happen to your brain if you're not getting enough sleep.