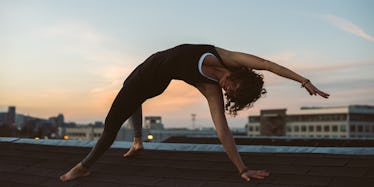 The Pink Moon Means Change Is Coming Your Way & This Yoga Flow Will Help You Embrace It
The upcoming Pink Moon on April 29, 2018 is going to be a time full of magic, rebirth, and renewal. If you're a yogi, then this Sunday will be the perfect time to get on your mat and explore the innermost parts of yourself through healthy, mindful movement. Adding some yoga poses for the Pink Moon into your flow will allow you to connect with your spiritual side and open your heart to the beauty of springtime growth that lies ahead.
I can't quite put my finger on it, but there's just something so enchanting and vibrant about the arrival of the Pink Moon (which, FYI, isn't actually the color pink — sorry, girl). After a long and dreary winter, this spring full moon represents revitalizing beauty, as well as a subtle reminder that, through the many ups and downs in life, there is always something stunningly glorious waiting on the other side of a period of dormant hibernation.
As you indulge in this Pink Moon yoga flow, think about where you were just a few weeks ago (on April 15, to be exact) during the new moon in Aries. Take pride in the progress you've made in such a short period of time, and honor that growth with these seven powerful yoga poses.