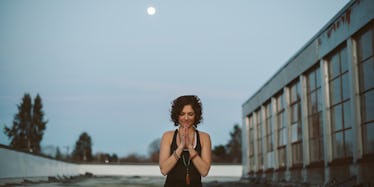 8 Yoga Poses That'll Help You Make The Most Of Tonight's Full Moon
A full moon, aside from always being breathtakingly gorgeous to look at, is an exciting opportunity to really feel all the cosmic energy that surrounds you. It's a moment that allows you to feel more connected to yourself and to nature. And the full moon coming later tonight, Oct. 5, isn't any old sphere of light chillin' in the sky. This particular full moon is going to be intense AF, bringing out all the buried emotions you may or may not have been holding back. That's why preparing with a series of nourishing and strengthening yoga poses for the full moon will allow you to optimally receive all of the energy this celestial event has to offer.
Since tonight's full moon is in the sign of Aries, there will be loads of impulse and passion headed your way. Aries is an adventurous, courageous, and versatile zodiac sign that always stands tall and true to what they believe in. So having the full moon in Aries means that spontaneous emotions will be revealed with little control, and passionate beliefs will be fiercely guarded.
Internal conflicts are likely with this specific Aries moon, so try to maintain courage and resilience when you're faced with inner turmoil.
That's where yoga comes in. It takes courage to be able to let go of what doesn't serve you, and flowing through these strengthening and heart-opening poses will allow you to make space for new, vibrant energy.
Plus, the moon is extremely symbolic when it comes to yoga mythology. The sun and the moon are known to represent the two polar energies of your body, according to Yoga Journal, and that's why it's very freeing and energizing to sync your practice with the phases of the moon.
So, while your emotions might not seem to make sense tonight as the full moon sets in, incorporating these yoga asanas into your day will help you go with the flow and embrace the raw, natural feelings that surface.
Here are eight yoga poses that will let you harness all of the intensity and passion that tonight's full moon will bring. Namaste!