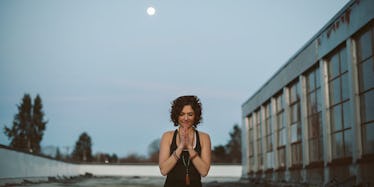 This Is How You Should Prepare For Tomorrow's Life-Changing Full Moon
Tomorrow is the first full moon of 2017.
New Year's was a fresh start, but you won't necessarily feel those changes until the full moon goes into effect, providing the universe with the energetic boost it needs to quite literally and figuratively change the tide.
During the full moon, I encourage everyone to reflect on where they are in life and to reassess where they want to be because by clarifying your intentions, you'll be able to energetically shape the way your life is going to look over the next few months.
The full moon of January, known as the Wolf Moon, the Hunger Moon and the Cold Moon, is a particularly ripe opportunity.
Being the first full moon of the year, you can change not only the next few months of your life, but you can also change the next year of it.
We already know thoughts direct energy, and energy directs form.
So, this isn't just some spiritual woo-woo crap I'm peddling here.
While sitting down tomorrow night for a few hours underneath the full moonlight, reflect on where you want to be in the next year.
Don't worry about how you'll get there, and don't even worry about being realistic, as we often limit ourselves to the confines of what we consider to be possible.
Know that you will have the energy of the entire universe behind you as you place yourself in the exact position you want to be in by the end of 2017, and you give yourself the permission to get there.
Let go of your current situation, image or the expectations others have placed upon you.
By taking the time to do your own ritual either by lighting a candle, making yourself comfortable at home meditating or going out and taking that first step toward getting what you want, you'll be that much closer to achieving your goals.
This next year could be the most exciting one of your life, unless you have other plans.
Citations: The First Full Moon Of The Year Is Coming — Are You Ready? (Refinery29)