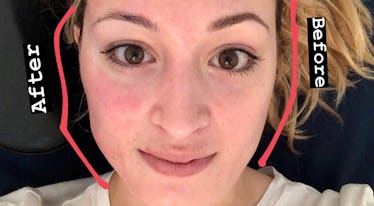 I Tried The "Forma" Non-Surgical Facelift & Please Just Look At How Much It Sculpted My Face
Courtesy of Bella Gerard
When I first heard the phrase "non-surgical facelift," my immediate assumption was that it was a fancy, overdramatic name to hype up a pricy facial. Then, I tried it out for myself and realized I had totally misjudged it. In under an hour, my face had basically transformed, and I understood how fitting the procedure name really was. If you haven't heard of Forma, a non-invasive treatment that delivers real facelift-level results, read on to have your mind blown — and if I succeed in convincing you, your appointment booked.
When I first walked into the NYC pop-up spa created by the LA-based Le Jolie Medi Spa just in time for Fashion Week, I had little to no knowledge of what Forma was, nor did I really think I needed a facelift of any kind. I am 23 years old with youthful skin, and while I do have problem areas — somewhat deep laugh lines, a faint forehead wrinkle, post-acne scarring and post-college dark circles — I would consider my skin quality average-to-good, thank you very much. But after hearing how many gorgeous, chiseled celebs were fans of the spa (Jasmine Sanders, Hailey Baldwin, Jordyn Woods, Steph Shepard, Yolanda and Alana Hadid, Delilah Belle Hamlin, need I go on?) I knew I had to see what all the fuss was about first-hand.
When I saw Jasmine Sanders on the Le Jolie Spa Instagram page giving Forma a go, I knew I would need to try out this non-surgical facelift option, too, because, well, look how cool this seems:
Based on the video above, Forma doesn't seem too intense, so you're probably wondering how it could possibly give me the dramatic results I'm bragging about — don't worry, you'll see the receipts soon.
The first thing I was told by the medical director of Le Jolie Medi Spa, Dr. Parvaneh Rafaeloff, MD, was that Forma really couldn't be classified as a mere facial, since the tools used were all in fact true-blue medical instruments. The goal of the procedure is to improve the skin's texture and give the complexion a natural radiance. The results are often dramatic enough to leave patients with a face far more chiseled and defined than the one they entered the spa with. I'm told my one-procedure results will last a few weeks, but that a regimen of five treatments over the course of five to six weeks can yield results that last five full years.
So, what exactly happens during this magical instant facelift? From a scientific standpoint, radio-frequency technology is used to target layers of skin beneath its surface, stimulating collagen formation and helping out with the skin's overall elasticity. Wrinkles and sagging skin, be gone!
Not only is Forma non-surgical and non-invasive, but it's also almost painless, with virtually no downtime. My treatment began with Dr. Rafaeloff applying a generous amount of numbing cream to the Forma machine head, coupled with gel similar to the kind used during ultrasounds, to lubricate the machine as it moved across my skin. The numbing cream makes the experience feel massage-like instead of harsh, despite the microdermabrasion-esque indentations on the machine head and the 109.4℉ temperature of the tool against my skin. (As far as temperature goes, I was told a lower heat setting would be used for sensitive areas, like the upper half of the face and below the eyes.)
To begin, Dr. Rafaeloff decided we would do one side of my face first, so we could compare the finished side to my original complexion. Even though it felt painless, it wasn't long before my face was red as a tomato.
No, really. I'd never seen my skin so red before, especially in problem areas, like where my acne scarring sat on my cheeks, yet it felt painless, and the machine glided effortlessly, never dragging on my face.
Even though I could see my skin getting increasingly redder as the treatment went on, I wasn't at all panicked. I definitely didn't feel like the numbing cream had really done its thing, but the movement of the machine against my face was relaxing and massage-like, so I guess the numbing cream really was hard at work. Even though I knew my results would supposedly further develop over the following three days post-procedure, I started to get pretty excited to see what on earth this tool and the accompanying redness were doing to my skin.
So we carried on and finished up the right side of my face. Then, it was time to wipe off the cream/gel combo and compare.
I have to admit, when I first saw the results, I was more than a little freaked out. I couldn't stop staring at my right cheekbone, which had been completely carved out in the best way possible. My normally rounder face was serving Chrissy Teigen-level high cheekbone realness, and comparing and contrasting it with the untouched other side was fascinating.
Here's my before and after, with the rounded before cheek on your right, and the sculpted after cheek on your left.
And here is the photo again, with outlines added on by me (an Instagram Story artist, obvi) to clarify the change:
I'm sorry, but that's pretty wild, right? I wondered if the dramatic shaping would diminish as my redness subsided, but the results were far more than a fleeting side affect, so we carried on and completed the other side of my face. I admit, the center of my forehead was the only area where I felt a tiny bit of discomfort, as the heat felt more intense on my skin there, but even that was no big deal from a pain standpoint. I've had other facials and peels that felt far more aggressive and painful, and plenty of those had yielded far less dramatic results. An hour or so after I left the spa, the redness had completely dissipated, and my face reaped all the benefits with no negative side effects at all.
You know that episode of SpongeBob SquarePants when Squidward suddenly becomes buff and hot? This is exactly how I felt as I examined my new cheekbones, and I mean that in the best way possible.
Some of the expected results yielded from Forma treatments on the face include a smoother, tighter complexion, defined cheekbones and jawline, lifted brows, and rejuvenated dark circles. Because I've got fibrous dysplasia, a bone disorder, on one side of my jawline, I can't speak to the defined-jawline result personally, but as the pictures above show, my cheekbones were significantly more defined, which was my main takeaway post-procedure. Dr. Rafaeloff was also right about the microdermabrasion-esque tip of the tool helping to smooth my complexion — she had insisted my makeup would apply more flawlessly after Forma, and she was totally right.
Dr. Rafaeloff told me that the technology used for Forma isn't only specific to the face, and that different attachments for the machine can be used to perform treatments on areas of the body including the neck, stomach, breasts, thighs, and other areas. As she shows me a few before-and-after shots from other patients on her phone, she fills me in on just how many huge celebs go nuts for the treatment, often arranging to get Forma on the day of or day prior to major red carpet events. She dropped some specific names, but I'll let you stalk out some celeb cheekbones on Instagram and decide for yourself.
Until then, feel free to check out these other before-and-after shots, from patients, which feature some awesome transformations to the face, jawline, and body.
So, why isn't everyone and their mother getting Forma, now that we know, according to Dr. Rafaeloff, that it can help patients look up to "10 to 15 years younger non-surgically?" The reason more celebs receive the treatment is likely because of the high price tag — at Le Jolie Medi Spa in LA, Forma is offered for $600, and at their NYC pop-up spa held from Aug. 26 to Sept. 9, the price rose to $850. It's definitely not cheap, especially if you're hoping to get more than one treatment... but you didn't think celebrities looked ageless by sheer luck, did you?
As someone who still has lots of collagen and elastin being produced naturally in my skin, I hadn't expected Forma to really miracle-work on me, but my results were undeniably prominent. Days later, my contour is more than on point, thanks to more defined cheekbones and a smoother complexion overall. While I might not recommend a treatment so pricy on a whim, I definitely feel that Forma is a wildly effective option for anyone hoping to quite literally reverse the signs of aging, without going under the knife.
Would I ever do Forma again? 100 percent yes, but it might take me a minute to save up enough coin to do so. When I'm thinking big-picture, it makes far more sense for me to invest in one pricy procedure that gets the job done, as opposed to multiple cheaper treatments that won't pack the same punch as something like Forma. If you're lucky enough to live in California and are able to visit Le Jolie Medi Spa for a treatment of you're own, just know I'm living vicariously through you — and please LMK if you run into any of my fave celebrities while you're there, because it's highly likely that you will.