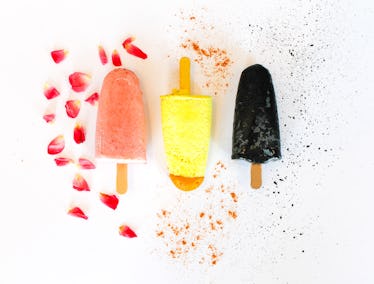 Facial Popsicles Are The Absolute Chillest Way To Amp Up Your Summer Skincare Routine
Blush Skincare
When it comes to summer skincare I tend to get super lazy. An SPF, mild toner, and night cream pretty sum up my go-to products during warm weather months. But one extra cool product has recently caught my eye and I need to add it to my summer skincare routine stat. Facial popsicles just might provide benefits that are actually worth taking a bit more time tending to my complexion for and the fact that I can make them myself and in the comfort of my own home only sweetens the deal.
As Dr. Arleen Lamba, skincare expert and founder of Washington, D.C.-based Blush Skincare, explains, "Summer skin disturbances occur due to high temperatures and peak humidity. This leads to overactive sebaceous glands producing sebum on the skin. The humidity keeps this oil from evaporating, causing congestion and breakouts. Frozen skin treatments instantly cool the skin, slowing down sebum production."
Crazy, right? Dr. Lamba has been creating monthly "face workouts" for her clients that take into consideration seasonal conditions and environmental factors, and facial popsicles are what she recommends for summer. "They are a perfect summer substitute for your normal serum. I recommend using the popsicles after you wash your face, but they can certainly be used to cool down the skin after a workout or hot day at the beach," she notes.
While the popsicle treatment that Dr. Lambda provides at her skincare club involves hyaluronic acid and therefore can't be replicated at home, there are other popsicles that you can DIY and get stellar results from. Below are three of Dr. Lamba's favorite recipes for you to try out before fall hits.
Before you get started, keep in mind that you should make all of the recipes with distilled water because of its neutral pH. Standard tap water is hard water, meaning it has a high mineral count. These minerals disturb and change your skins pH and can worsen conditions like eczema and acne. Dr. Lamba also recommends using Zoku Mini Pops trays ($16, Amazon) or ice trays as molds to freeze your face pops in.
Charcoal Smoothie
4 tsp organic greek yogurt
2-3 tbsp activated charcoal
This recipe will provide an exfoliating detox. Greek yogurt is high in lactic acid, which acts as a peel and will exfoliate away pollutants, while charcoal draws bacteria and toxins out of the skin for a deep clean. To use, rub the popsicle over clean skin and let it sit for 10–15 minutes. For best results, follow it up with the cucumber popsicle below!
Calm Down
1⁄4 cup cucumber water OR 1⁄4 cup aloe water
2-3 tsp organic ground turmeric
If your puffy, inflamed skin needs some serious calming, this pop is for you. The anti-inflammatory properties in turmeric work to soothe redness caused by acne and eczema, while the vitamin C and caffeine in the cucumber will help bind hydration to the skin and reduce puffiness.
Just Rosy
3 finely chopped mint leaves
3 tbsp rose water
2 tbsp organic coconut water
If you're looking for a little skin pick-me-up, the combination of rose water, fresh mint, and coconut water can brighten your skin in a hurry. Along with helping to keep your skin's pH balanced, rose water also has anti-inflammatory and hydrating properties. Mint acts as a natural toner to even out the color of skin, while coconut water is rich with anti-aging properties.
Clean beauty at it's chillest.