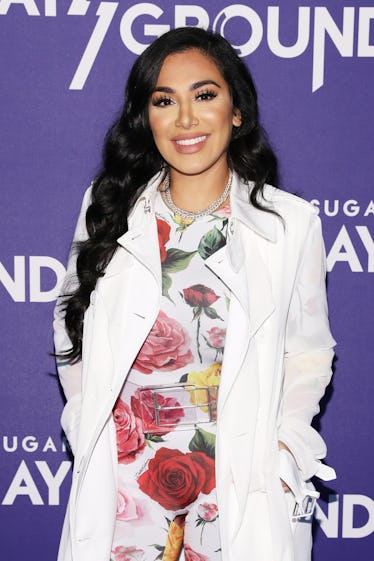 Huda Kattan Started An Elevator Makeup Challenge & The Winner Receives A $5,000 Scholarship
Cindy Ord/Getty Images Entertainment/Getty Images
It's time for our feel-good beauty moment of the week! I'd like to think that by 2018, we've reached a point where the beauty community is scandal-free, totally inclusive, celebratory of differences and flaws, etc. However, that's not always the case. There are tons of good vibes in the beauty community, but it's also a space for major drama, which is why the feel-good moments should be cherished to balance out any bad. Huda Beauty's elevator makeup challenge, for example, is definitely one of the best beauty-related opportunities for good that I've come across in a while.
Huda Kattan, founder of her namesake company Huda Beauty, recently ran into a bit of drama with the bakery-themed ad campaign for her Easy Bake Loose Setting Powder ($34, shophudabeauty.com). While the pics were cute, some beauty-lovers began to point out the similarities between Huda's campaign and the entirety of small indie brand Beauty Bakerie's packaging and marketing. However, Kattan's latest endeavor is a step in the right, drama-free direction, as she's giving her fans the opportunity to win big via a makeup-themed competition.
Kattan took to her Instagram page to introduce her idea, dubbed the Elevator Makeup Challenge:
The video features her own attempt at the Elevator Makeup Challenge, in which she completes a "full-glam" look — with false lashes — in the time it takes to travel just 38 floors! On her website and in the caption of the Instagram post, she details all the rules and rewards:
🚨 COMPETITION ALERT 🚨OK Guys! So I loooove challenges and I thought it would be so much fun to create one in an Elevator!! So here it is...I recently challenged myself to do a FULL face of makeup, literally - from 0 to 100, while taking the elevator to our offices. Surprisingly, I kinda did it WITH lashes !So here it is!! We are offering a $5000 cash scholarship to one lucky winner for a makeup training, makeup kit, (whatever you want)! The instructions are simple: 1️⃣ You need to complete your full face makeup in time (from bottom to top floor), you and your friend can film it. 2️⃣ Upload your video to INSTAGRAM using hashtag #ElevatorMakeupChallengebetween July 18th and July 27th closing 23:59 (GMT) I'll be choosing three finalists, who you'll get the chance to vote for on our blog www.hudabeauty.com on 30th & 31st July. The finalist's video with the most votes will win the giveaway. Best of luck my loves ❤️❤️❤️ have fun with this and try to ignore the crowd (very hard)!
So essentially, whoever creates the fiercest elevator glam receives $5,000 to put toward a makeup scholarship or training course, or a charity of their choice. Sounds pretty great, right? Someone pass me my makeup bag and point me toward the nearest tall building (preferably, an older building with a V slow elevator)!
In the comments on Kattan's post, her followers are beyond excited at the unique competition, although some are lamenting the fact that they don't live in skyscraper-heavy areas.
A quick click on the #ElevatorMakeupChallenge hashtag reveals quite a few videos already uploaded, and they all showcase some serious makeup ~skillz~.
Let's review the rules just once more before I head out to film my own video. Take a clip of you applying a complete face of makeup while riding in an elevator from bottom to top floor. Then, upload it to Instagram. To make sure Kattan and her team see the entry, make sure your post is public, use the #ElevatorMakeupChallenge hashtag, and post it between July 17 and July 27, when the competition ends at 23:59 GMT. If Kattan likes your video, it will be one of three finalists posted on the Huda Beauty blog on July 28, where fans will be able to vote for their favorite video. The video with the most votes will win a cool $5,000 to be spent on either a makeup scholarship or kit, or donated to a charity of the winner's choice.
Kudos to Kattan for creating a challenge that's fun for everyone to try (well, everyone with a nearby elevator and skyscraper). I'm already jealous of whomever will be getting that $5,000, but I've got my fingers crossed that they choose to donate their earnings (or at least, some of them) to a charity. After all, $2,500 would still allow you to buy a ton of makeup!