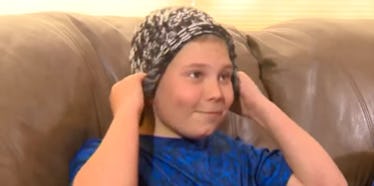 This 11-Year-Old's Charity Work For Kids With Cancer Will Put Us All To Shame
YouTube
It makes me happy to know that there are people in the world who are so compassionate, it inspires others to be the same. Especially when they are kids.
Garrett Lowry, a baseball-obsessed 11-year-old, has been working on a project for months, and it's incredibly heartwarming. Together with his grandmother and mother, Garrett knits handmade hats for kids with cancer.
The knitting project began as a class activity, where students had to choose a way to help people in need. It was his idea to help kids with cancer, and he originally planned to knit just 15 hats. So far, he has knitted 50 hats for patients at Colorado Children's Hospital, and he doesn't plan on stopping.
His reasons for making these hats are beautiful. He explains,
Going through that kind of thing might scare people, and I just want to make something that can make them more comfortable while they are in the hospital... I want children to feel better about themselves. And feel that they are appreciated and that they're loved.
I can't even deal with how sweet that is.
This isn't the first time Lowry has done something charitable. When he turned 7, he used his birthday party as a gift drive to help other kids in need. In the future, he plans to work with the Ronald McDonald House, a non-profit organization that helps sick children and their families.
Kids like Garrett remind us that we can all offer something — even if it's just our time — to other people in need.
Citations: Big-Hearted 11-Year-Old Knits 50 Hats For Kids With Cancer (Huffington Post), 10-year-old's secret hobby is helping sick kids (9News)