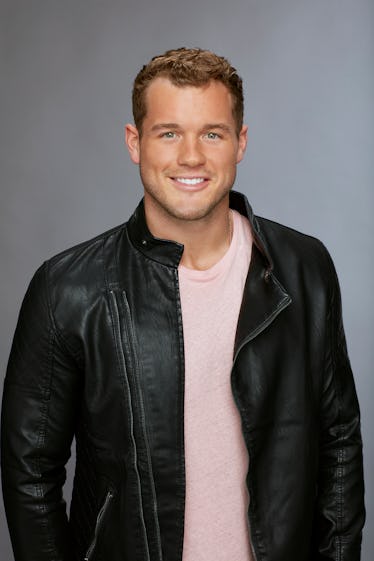 This 'Bachelorette' Contestant Is Super Charitable & Has A Foundation In His Name
ABC/Craig Sjodin
Get ready, Bachelor Nation, because Becca's season of The Bachelorette is finally in full swing. Becca met plenty of great guys during the season premiere, but one man really stood out for his positive attitude and giving nature (his good looks didn't hurt, either): Colton Underwood, the 26-year-old former NFL player. Colton spoke to Becca briefly about his non-profit work, and now, I have so many questions. What is Colton's charity? The philanthropic athlete has a foundation for Cystic Fibrosis, and he spends practically all of his time helping others through his charity work. Sounds like Becca's found herself quite a catch.
After an injury ended Colton's pro football career, he decided to put his athletic ability to good use by founding a charity. The Bachelorette star created the Colton Underwood Legacy Foundation in 2015 to "provide resources for research and support of people living with Cystic Fibrosis and encourage youth participation in athletics," according to the foundation's official website. In just three short years, Colton's charity has given $100,000 to Cystic Fibrosis patients, research organizations, and clinics to ensure that those living with the chronic lung disease get the best treatment possible. Not too shabby for a man who just celebrated his 26th birthday.
The Colton Underwood Legacy Foundation raises money primarily through football clinics — thereby merging Colton's passion for football with his desire to give back. According to the website, Colton's charity has held two football camps, each with over 400 young participants, that helped raise a total of $60,000 for the Cystic Fibrosis Foundation. This money goes to clinical studies and research, and purchases medical equipment, like aerodynamic bikes, for patients and clinics. Says Colton on the website, "Bringing kids together to play and learn new skills in their sport while working together to raise money for Cystic Fibrosis charities brings a whole new meaning to teamwork."
Colton's commitment to ending Cystic Fibrosis hits close to home: His cousin, Harper, has the disease, and she fights every day to get the care she needs. In the video, Colton explains that 30,000 children and adults in the United States suffer from CF, and they struggle every day to live normal lives and stay healthy. Harper is only four years old, but she spends hours every day taking pills, inhaling medicine, and cleaning out her airways. And that's just when she's healthy. If Harper or someone living with CF gets sick, they must take even more medicine and devote even more time, energy, and money to staying healthy — something that the rest of us don't have to worry about. "Living with Cystic Fibrosis is like living with adversity every single day," says Colton.
Colton's commitment to his charity is super sweet, and I hope that he and Becca get a chance to talk more about it as the weeks go by. No matter how far he gets on The Bachelorette, I'm sure that the exposure will be great for his foundation and hopefully, appearing on the ABC show will get his charity some more donations.
When Colton isn't working on his charity, he likes to spend time with his dog, Sniper, and... date Aly Raisman? Yup, the NFL player and the Olympic gymnast dated for about a year, but they split amicably in June 2017 — plenty of time for Colton to get over Aly before going on The Bachelorette. Colton told the Peoria Journal Star at the time:
We're taking a break right now. We're still good friends and talk, but all that travel had been a nightmare. It ended fine. We're in a good place.
A guy's breakups say a lot about him, so it's nice to know that Colton is someone who doesn't create bad blood when a relationship ends. Although, it would be pretty fun if Aly showed up on The Bachelorette to get her man back. ABC, is that in the cards this season?
The Bachelorette airs at 8 p.m. ET Mondays on ABC.