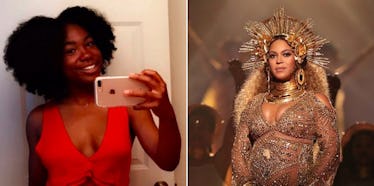 Meet Bria Paige, One Of The Winners Of Beyoncé's Formation Scholarship
Bria Paige Twitter/Getty Images
This Beyoncé fan just got the ultimate Beyoncé treatment. 19-year-old Bria Paige is one of the four winners of Yoncé's Formation Scholarship, and a self-proclaimed member of the BeyHive, which means her 2017 back-to-school experience is about to be one unprecedentedly lit event thanks to a $25,000 college boost from the Queen herself. Elite Daily spoke exclusively with the Mississippi native, who's ecstatic about winning the scholarship. It will go toward her junior year of college at Spelman College.
Beyoncé announced the Formation Scholarships in April to mark the one-year anniversary of her Peabody-award winning visual album, Lemonade by giving away four college scholarships to women who are studying "creative arts, music, literature or African-American studies."
Bria Paige tells Elite Daily she heard about the scholarship when the rest of the world did and her college professors encouraged her to apply, so she immediately filled out the application.
Add me on Snap @bria_elayne pic.twitter.com/JX4l2PNEoe — Bria Paige (@bria_elayne) July 2, 2017
The English major says,
It was fairly simple. It was just a 350-word essay, which is difficult when you talk so much and you're an English major so I was struggling to fit everything I wanted to say in such a small amount of words. It was an essay, a portfolio, and then the application.
Paige says her essay covered how Beyoncé's Lemonade album has continued to influence her own academic journey as a black female student interested in gender and racial equality, which are heavily addressed themes in the visual album.
This was her second time referencing Lemonade for academics purposes, since she had also scored a fellowship with the United Negro College fund Mellon Mays Undergraduate Fellow in January, before the Formation Scholarship announcement was even a thing.
She explained both essays, saying,
In there, I talked about how her album kind of merged the personal and the political and how it served as how music, lyrics, and videos -- things that are typically considered part of pop culture can be considered a political space. I felt like Lemonade was a political space for black women just to revel in our womanhood, just to identify with each other and to celebrate black womanhood.
Paige didn't even find out she won the scholarship until her friends started flooding her phone with "congratulations" texts.
She says,
I never received an official email from Parkwood Entertainment. I was in a [summer school] session during the early morning and I had a friend who texted me a paragraph long saying stuff like, "Congrats Bri, I'm so excited for you." I was like, "What are you talking about?" I went to Spelman's social media and that's where I saw it. All of the emotions just started flooding in. I immediately went out and called my mom, my best friend, the person who I would tell anything to first. She started crying and I started crying. It was just a great moment.
Paige's family and friends surprised her with a backyard Lemonade party to help her celebrate. Lemonade cookies, lemon-flavored cake, a lemonade stand with actual lemonade, and a DJ were all set up for Paige to finally turn up with her loved ones before she leaves Mississippi and returns to Atlanta for school.
The Formation Scholarship has also come at the perfect time, since the cost of college continues to be an important issue for students.
According to a 2014 report on college dropout rates and causes by Nonprofit Quarterly, only 59 percent of students who start off their college career as freshmen at a four-year college end up graduating within six years, and oftentimes, cost is one of the main factors. College costs have done nothing but increase each school year since 1971, according to CollegeBoard.
Paige shares,
School is not cheap so it was just great to have this financial burden lifted off of my shoulders. And for it to be from Beyoncé, the queen -- someone who I adore and listen to and have adored since forever that just made it even better.
Bria Paige is also aware that to whom much is given, much is required. She's planning to hit the ground running with her scholarship to really make the best of her undergraduate career. Paige will graduate with her Bachelor's degree in English, then go on to pursue her doctorate degree and begin teaching English at the college level.
She explains,
Just knowing I have Beyoncé on my side and that I have $25,000 to go towards my education, I feel renewed, encouraged and motivated to go even harder and finish up these last two years with even more strength and more curiosity. I got the halfway mark and this is just that push that I needed to finish in 2019.
So, is this the appropriate time to add that I, as a resident BeyHive member for 20 years and counting, am jealous as all hell? Where was Beyoncé when I was getting in Formation before there was even a Formation? And is Beyoncé going to keep this up and pull a Nicki Minaj by paying off a few of her older fans' student loans? I don't want to control the queen's money, but I can just think of a million different ways Beyoncé could continue this streak.
Hopefully, this story is a developing one. Here's to this not being the last we hear of the great things Bria Paige will do with her bag of money from Queen Bey and to this not being the last we hear of Beyoncé greasing up the palms of her fans in the name of education.