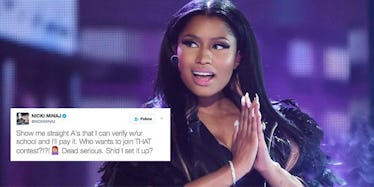 Nicki Minaj Hands Out Cash To Students In An Amazingly Generous Twitter Spree
Getty Images/Twitter
Nicki Minaj just showed Sallie Mae who's boss, and we have to give credit where credit is due.
Everyone — Nicki included — knows student loans are an absolute nightmare, so the hip-hop sensation decided to make the atrocity much more bearable for several of her fans.
On a whim, or so it seems, the singer hosted an ultra-charitable Twitter spree agreeing to pay for fans' outstanding loans.
Don't you wish you were tweeting instead of hitting the bar?
This all happened rather spontaneously.
On May 6, while many of us were foolishly not paying attention, Nicki decided to garner attention for the Billboard Music Festival later this month with the hashtag #NickiBBMAs. This gave fans a chance to either join her at the May 21 event or in the recording studio.
Both are pretty solid options, but then things took a turn when an outspoken fan requested help in the financial department with school tuition.
Though this is Twitter and not the bursar's office, Nicki responded like a champ.
Lo and behold, a Twitter movement was born.
Fans were getting ready to whip out proof of their GPAs (*frantically signs into Manhattan College self-service system*).
"Dm ur bank info."
Under normal circumstances, I'd be pretty darn skeptical if someone requested my bank account information via social media, but after all, Nicki was just keeping up her end of the bargain.
Slay Nicki, slay!
Whether or not you're a fan of the singer, you must admit she totally held the mother of all Twitter contests. It's OK to be a little jealous if you missed out.
For those of you who wish you had signed onto social media instead of ordering spinach dip and nachos with friends, there is some very, very good news to look forward to in the future.
Nicki, you're a gem!
For those of you who will be glued to Twitter: Make sure your Great Lakes info is at the ready.
Citations: @NICKIMINAJ (Twitter)