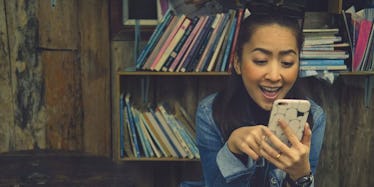 23 Memes That Sum Up Exactly How You Feel About Your Student Loans
Shutterstock
If you're looking to send a 20-something into a downward spiral of bottomless stress, you only need to bring up two simple, yet subtly threatening words: student loans.
Even if you didn't go to college, you're at least familiar with the term, probably because many of your friends can't shut up about their loans.
For those of us who are drowning in debt, we don't want to talk about it anymore than you do.
But we have to — especially with protections being rolled back for those of us who have defaulted on our loans, not to mention the scary idea that colossal student debt just might trigger the next market crash.
For me though, in times of stress, I find solace in memes because, honestly, who doesn't?
Here are 23 memes that perfectly capture the horror of student loans.
1. When you first got that email six months after graduation prompting you to start scheduling your loan payments, you were like...
2. ...and your friends started asking how much money you owe because misery loves company.
3. Setting up your payment plan is actually the easiest part of the whole process, yet you already feel crippled by the anxiety of it all.
4. You eventually suck it up and get it done. And for a minute, it feels like you actually have your life together...
5. But then that first auto-withdrawal kicks in...
6. ...and suddenly the weight of adulthood crashes down on you all at once.
7. You are not prepared for this life. You're only good at two things: eating and sleeping.
8. Your friends tell you to chill, but you literally don't know how...
9. ...although, you'd rather hear that than any kind of advice.
10. You're only slightly comforted by the fact everyone in your graduating class is in the same position.
11. Balancing real problems in the world with your own anxiety becomes practically debilitating.
12. Suddenly, you want to return to your alma mater and warn all the high school seniors on their college tour.
13. OMG GOOSE YOU'RE SO CUTE, BUT NOOOOO.
14. In an attempt to dial back on your anxiety, you get on your laptop to try to refinance your loans in a more affordable way...
15. Only to discover your student loan service website is crashing...
16. ...and your life is back to being in shambles.
17. The bill collector has become your actual worst enemy.
18. Why can't life be this easy?!
19. Your parents start getting on your case about money...
20. ...and you have to just sit there and take it, because you're probably going to ask them for cash soon.
21. Eventually, though, you manage to pay off all your debt...
22. And you can finally go back to enjoying your life...
23. ...you know, until the next adult thing gives you a complete mental breakdown.
Citations: Trump administration rolls back protections for people in default on student loans (The Washington Post), Some on Wall Street say $1.2 trillion in student debt could trigger the next market crash (Business Insider)