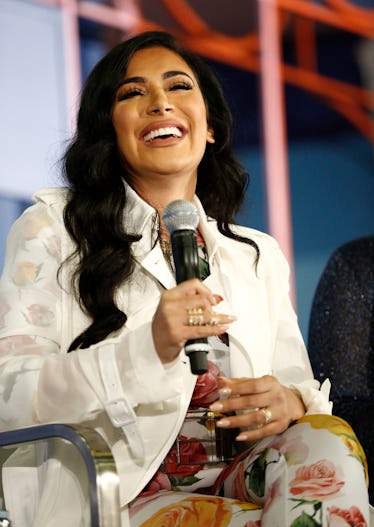 Huda Beauty Is Launching A New Product To Help You Bake Your Face Like A Cake
Brian Ach/Getty Images Entertainment/Getty Images
Another day, another beauty launch. This time, the exciting new product comes from entrepreneur Huda Kuttan's beauty line, Huda Beauty. As it turns out, Huda Beauty Easy Bake Setting Powders are on coming — and they're on their way pretty soon, to say the least.
Last week, on Friday, June 8, there were suspicions that Huda Kattan would be dropping concealers — a first for Huda Beauty. Then, after the trailer for her Facebook Watch series, Huda Boss, dropped the following Monday, we learned that concealers were, in fact, in the works, but also that another product would be coming as well.
Beauty Nancy Drew Trendmood predicted the Dubai-based business woman would be offering setting powders at the time, and on Thursday, June 14, Allure reported that the new products will be launched next month on July 2. Sadly, there's been no indication so far as to whether or not the Easy Bake Setting Powders will be sold in stores, but they will be available online at shophudabeauty.com on the release date. So if you prefer avoiding the crowds in most beauty stores, you're in luck!
The loose powder, which is described as "super luxurious" and as having a fine texture, is expected to come in eight different shades. There will reportedly be a white shade (which is likely to be translucent); warm, neutral, and cool shades for lighter skin tones; two medium shades; and two more shades for deeper, darker skin tones. So there should be something available for everyone. If not, there is always a chance the range could be expanded, much like the Huda Beauty #FauxFilter Foundations were back in October 2017.
Aside from new product drops, Kattan has been very busy not only behind the scenes of the makeup world, but now on-screen, too, as she's officially dipped into the world of television with the June 12 premiere of her new docu-series, Huda Boss. Us Weekly recently reported that the first season of the show will run for 10 episodes and will show viewers the ins and outs of the business — which isn't always pretty.
From the stress of being an entrepreneur to the anxiety of failure, those of us at home will get a raw look into what it's really like to be at the helm of a major beauty company. While, at times, it is glitz and glam, there's definitely a lot of pressure.
As of now, it looks like around 1.5 million people tuned in for episode one, and the vid was left with over 4,000 shares, 3,000 comments, and 18,000 reactions. Over 350,000 viewers and counting pressed play for Huda Boss: Live with Huda and Mona, which aired a day later. So far, it seems as though fans are loving the show.
If after reading all this, you're itching for some new Huda Beauty products, and you just can't wait until July 2 to get your hands on a setting powder, Huda Beauty recently came out with some other exciting launches, like the Matte & Strobe Mini Lip Sets ($33, shophudabeauty.com), which include four mini lip products in different color sets, as well as Huda's Rose Gold Palette -Remastered ($65, shophudabeauty.com) — a total revamp of the OG Rose Gold Palette Huda Beauty followers loved.
As mentioned early, when Huda Kattan first began teasing the setting powders, she did mention that a second new product was in the works. While all signs point to concealers for the time being, who knows what this makeup mogul will surprise her fans with next.
In the meantime, I'm not sure about you, but I'm ready to go shopping!