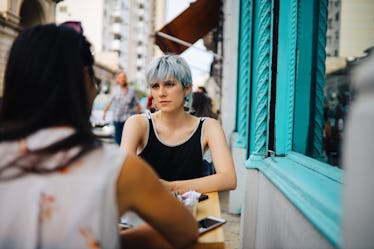 Here's How To Make It Clear You Don't Want A Relationship With Someone
lechatnoir/E+/Getty Images
It's not unusual to joke about being so endeared to a friend that you'd marry them. Likewise, "work wife" and "work husband" are coveted titles, signifying the transition from coworker to friend. But sometimes, a friend's "harmless" flirting might not feel so harmless, despite the "JK." Lingering looks or one too many quips about dating can start pointing to more-than-platonic feelings in a classmate, acquaintance, or even friend-with-benefits. Whether you've just addressed it briefly or see a conversation on the horizon, you feel tasked with telling someone you don't want a relationship. And lucky you, you can tell it's going to be awkward no matter how you slice it.
Between bruising the other person's ego, losing an otherwise cool person in your life, or perishing of embarrassment, all your options may look bleak. "For any situation, setting a boundary like this can be uncomfortable," says Toni Aswegan, a licensed mental health counselor and therapist at Riverbank Therapy.
Still, at the very least, know you can approach this conversation with empathy and respect, as well as make sure your own needs are being met. "Remind yourself that clear boundaries are kind, even if they hurt the other person temporarily," Aswegan says. That being said, here's how you can approach telling someone you don't want a romantic relationship with them.