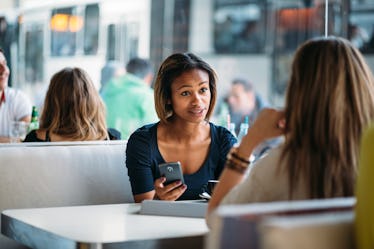 How To Break Up With A Friend When Things Get Way Too Toxic, According To Therapists
While it is not a pleasant experience by any means, sometimes, you have to cut the chord on a friendship. It's awkward, yes, but if the friendship is filled with more drama and negative energy than love and support, that means it's time to break things off. Much like saying goodbye to an old romance, learning how to break up with a friend is a delicate process that might not come naturally. But since ghosting, for example, is certainly not the best way to handle these kinds of situations, taking it step-by-step and communicating honestly will simply serve everyone best in the end.
So, where do you even begin when it comes to a friendship breakup? Well, according to Ashleigh Edelstein, LMFTA, a Texas-based therapist who works with teens, couples, and young adults, the first thing you should do is recognize how difficult this decision is, especially if you're cutting things off with a friend who's been in your life for a long time. That doesn't mean you should ignore your own feelings for the sake of not stepping on theirs, but it does mean, Edelstein says, that you should approach the situation with the utmost care.
"If your gut tells you it's time," she tells Elite Daily, "it's often a good idea to begin distancing yourself, so the breakup doesn't seem out of the blue."
It's also important, Edelstein adds, to recognize and anticipate that you might feel sad or guilty during that initial breakup conversation. "Your former friend will likely be hurt or angry, so it makes sense to feel bad about that," she says. "So give yourself permission to hold a boundary without feeling excessively guilty, which could even make you question your decision."
If you know you need to have this conversation with a friend, here are a few healthy ways to go about it, without hurting anyone's feelings too much in the process.