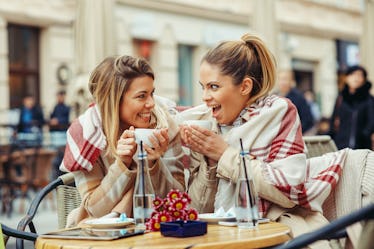 8 Ways That Say "I Love You" In A Friendship More Than Words Ever Could
djile/Fotolia
Friends are some of the best gifts you will ever get in life. You've got someone by your side to adventure and laugh with, but they'll be there for you when you need some cheering up, too. What more could you ask for? There are plenty of things you can say if you want to know how to show a friend you love them, but sometimes, actions speak louder than words.
At times, your closest friends will be those who have been in your life for years, but other friends may be just as special, even if they've recently entered your life. Maybe you live thousands of miles away, or maybe you're roommates. No matter how you met or how long you've known each other, it's never too early to show your friend that you love and appreciate them.
You don't have to make a big scene to express your love for your girls. Little things add up and make a huge difference, so don't underestimate the value of something simple. It's the little things your friends do that make a difference in your life, after all. If your squad is made up of the coolest, most supportive, best friends on the entire planet, read on. They deserve to know how much you love them, and it's definitely easy to make sure they know just that.