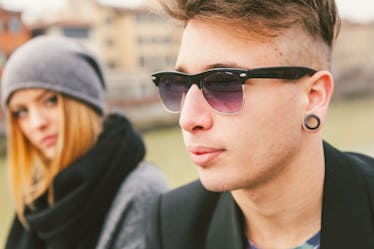 4 Ways To Tell If The Person You're Dating Is Wrong For You, Because It Isn't Always Clear
"When you know, you know." There's a good chance you've heard this expression in reference to love before. When you find "The One," you're supposed to be struck with proverbial lightning and have a sudden and inexplicable awareness that you're meant to be with this person. But what about when you're with the wrong one? Are there equally obvious ways to tell if the person you're dating is wrong for you?
TBH, it's not always easy to figure out. That's because problems in a relationship don't always point to the fact that your partner is wrong for you. Just because one of you gets annoyed by the other's habits or you and bae disagree on a few things, doesn't mean you aren't a good fit. It does mean, however, that you have some work to do in order to ensure your relationship remains happy and healthy.
On a somewhat obvious note, there are ways to identify incompatibilities in terms of communication habits, personality traits, and values. When you aren't on the same page about certain important issues that you're not willing to budge on, that can definitely create tension in your relationship. And according to experts, these are a few subtler signs that can suggest someone is wrong for you.