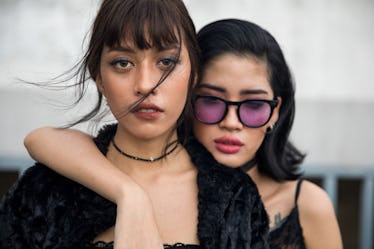 A Therapist Reveals 7 Signs You're In A Relationship With The Wrong Person, So Take Notes
The old adage is that when it comes to love, you'll just "know" when you find the right one. While that sounds really comforting and certain, in reality it's often not so cut-and-dry. People are complicated, and our feelings wax and wane over time. One day your partner may seem like "the one" and the next day, you might not be so sure. How are you supposed to know for certain that someone is actually right for you? Well, according to experts, there are clear signs you're in a relationship with the wrong person that can help you know if your uncertainty is normal, or if it's time to move on.
Leaving a relationship can be scary, especially a relationship that isn't necessarily bad, but that just may not feel quite right. You may second-guess what you're feeling and be afraid of making a mistake — no judgment here, because I have definitely been in this exact situation more times than I would like to admit. It's hard, it's confusing, and you don't want to hurt someone unnecessarily. So, rather than spend any more time feeling unsure, I called in the experts. To help navigate these oh-so-murky waters, I spoke with licensed clinical psychotherapist and Love Victory founder Dr. LeslieBeth Wish, and read up on some of what licensed marriage and family therapist, Dr. Gary Brown had to say on the subject. Here's what they say are some signs that your current partner may not be the right one for you.