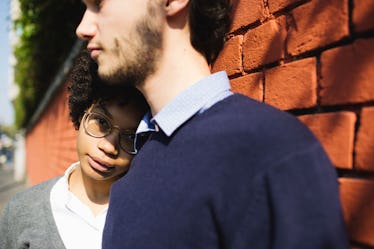 5 Signs You're Settling With Your Relationship, Because You Deserve To Feel That Spark
Unfortunately, knowing when you are settling in a relationship with someone isn't always super obvious. It can be all too easy to let the potential you might see in a partner overshadow their current ability to meet your needs. The signs you're settling with a relationship or partner that isn't the best fit can start off pretty subtle, but may end up developing into bigger issues as time goes on.
When it comes to dating, the word "settling" often evokes the image of a person who is dating someone who isn't as desirable as they are — which aside from being a kind of messed up thing to imply, doesn't really encompass the issue, which is that you're dating someone who you simply aren't compatible with on some level. IMHO, "settling" really just means that you are in a relationship with someone who might be a great partner for someone else, but isn't giving you what you need to feel fully satisfied.
I spoke with Cayla Buettner, Philadelphia-based matchmaker with Three Day Rule and noted psychotherapist Dr. LeslieBeth Wish, to get their thoughts on what it means to settle and how to know if you're in a relationship that might not be the best one out there for you.