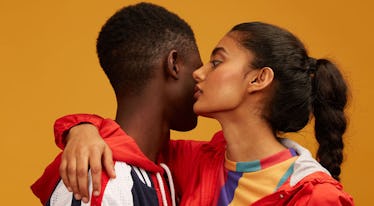 3 Signs You're Staying With Your Partner Out Of Fear Of Being Alone
Few things can be scarier, especially in the dating realm, than the fear of being alone. But if you, like many people, worry about winding up alone or not having a support system when you don't have a romantic partner, it can hold you back from finding real happiness. And settling for a relationship that doesn't truly satisfy you just because you're afraid to be on your own can sometimes be even worse than being alone in the first place — you just might not realize it yet. But what do you do if your fear is taking over?
The first thing you need to keep in mind, according to LeslieBeth Wish, psychotherapist, author, and relationships specialist, is that you should accept that your fear is completely normal and your feelings are valid.
"Start by accepting that being alone can feel lousy — we were meant to connect," Wish tells Elite Daily. "But rather than beating yourself up emotionally — and getting into even more of a depressed mood, use your loneliness to get involved in life."
Anita Chlipala, a licensed marriage and family therapist, seconds this notion. "I tell my clients to use their fear as a motivator," Chlipala tells Elite Daily. "Fear is a valid emotion just like any other and needs to be attended to. Don't minimize your emotions. If you are scared that you'll be alone forever, honor that feeling, but you must take action."
So, how can you tell if the only reason you're in your relationship is because you're afraid to be alone? There are a few key things you need to keep in mind — and if you are ready to take action and overcome your fear of being alone, know that you'll be OK.