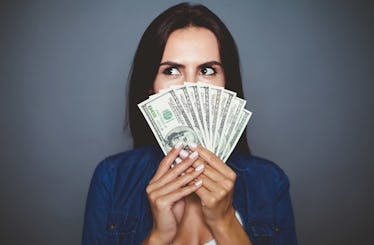 17 Bougie Ways To Blow Your Bonus That'll Have You Living In The Moment
Hallelujah — you just got paid! A big bonus is coming your way, and you have two options right now: save it or spend it. As someone who is just trying to live her best life, I would go for the spend it route. A big bonus like this doesn't come often, so you definitely want to know how to spend your bonus the best way possible (aka, as bougie as possible).
Now may be the time to finally go for all of those extravagances you've been dreaming of. These are the things like special tattoos, fancy hair treatments, and tropical vacations that are on your bucket list, but you never thought would be in the cards so soon. Sure, you could be savvy with your new money, and put it away to use later, but why not invest it in the moment? You're still being smart with your new cash by using your bonus on special experiences and things you'll cherish forever, rather than putting it toward a material thing.
So, when that bonus check finally comes your way, consider any of these 17 things that'll bring you joy, and make you become the textbook definition of living your best life.