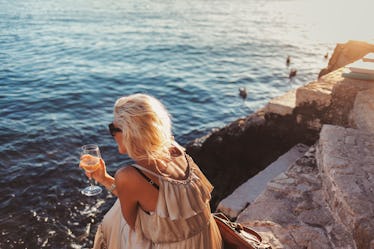 The Hottest Wineries In The Hamptons To Live Your Best, Bougie Life At This Summer
The Hamptons is an extremely popular summer destination in Long Island, New York. Many urbanites flock here to escape the hustle and bustle of The Big Apple, get some much-needed fresh air, and hit up the hottest vineyards on the East Coast. You can spend your days partying, eating, swimming, lounging, shopping, and wine tasting. There are a number of wineries across the Hamptons to fulfill your greatest wine desires. Visit the best wineries in the Hamptons to Instagram this summer if you want to return home feelin' fine like wine.
Let's be real: Wine not go wine tasting? It's a great way to take in the beautiful scenery while satisfying all of your senses. You'll feel extra bougie as you sip on fancy wines with your girls by your side. You'll learn the proper techniques to drink wine the right way, and you'll always be able to carry those lessons with you. You're sure to taste wines that you've never heard of, so you might have a new favorite by the end of it. You can stock up on bottles to use for future girls' night in and movie nights with bae. Let's just say, you'll never drink wine in the same way again after visiting these gorgeous vineyards.