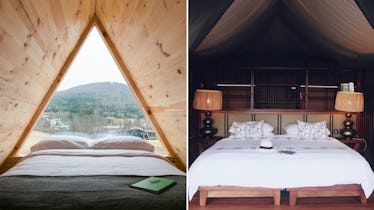 The Best Glamping Hotspots In The World To Reconnect With Nature & Completely Relax
Coming from a girl who lives in New York City, I can vouch that sometimes a trip to the "great outdoors" for a whole week really doesn't sound super enticing. Whether it's the nightly encounters of bugs, creatures, and critters, or the general lack of running water, planning a camping trip can often test your ability to brave the elements. However, in the last few years, glamorous locations around the world have created chic, tented sites with all of the modern amenities you want and need on vacation. This perfect balance of mother nature mixed with the comfort of home creates an escape that is truly grounding. This is why you need to check out this list of the best glamping hotspots to reconnect with nature.
The ways in which you go rustic can vary from person to person, depending on preference. You could stargaze, fly fish, and glamp-out in a tented spa in British Columbia, or you could light a fire over the sand dunes in a glamorous tented abode in the middle of the Sahara desert. No matter what your style and destination preferences are, there is a rustic-chic option for everyone. Also, with everything in our daily lives revolving around technology, it is beyond refreshing to lose service and enjoy the beauty of the world around you.