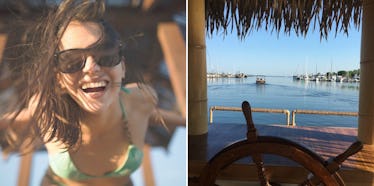 This Floating Tiki Lounge Is The Tropical Escape You & Your Girls Need This Summer
Who said you have to book a plane ticket to embrace the tropical vibes? This summer, your wanderlust feels stronger than ever before, and you're in desperate need of beach days and Mai Tais. You wish you could take a whole month off work to sip rosé near the Mediterranean Sea, or do some tequila tastings in Mexico. But, unfortunately, your schedule is too busy for you to dive head-first into fun in the sun. Captain John's Tiki Tours is the sweet escape you and your girls need this summer. So, gather your crew and get to the shore ASAP.
Seriously, not every vacation requires taking days off, or even getting your passport stamped. Some of us love to hop on planes and explore entirely different corners of this world, but sometimes all you need to get refreshed and relaxed is an afternoon with the surf and sweet company. Your friends have always made summer memorable, and you'll likely have many s'mores with them in the next few months. Nothing makes a moment better than some marshmallows and chocolate, am I right?
Let me give you the scoop, though, because that summertime snack will have some serious competition against Captain John's Tiki Tours. Elite Daily spoke with Capt. John Davis about this slice of paradise that's located in Stamford, Connecticut. According to Davis, his company is all about bringing the "sounds of Hawaii" to the East Coast. So, as it turns out, your tropical escape is right around the corner.
How does the tiki tour work?
This company provides a bunch of different excursion options, so you and your friends just have to find which one works best. If it's just you and your bestie, you may consider renting a Tiki Kat for $199. According to Davis, this tour offers an "up close and personal kind of adventure" on the water.
These two-seaters kind of remind me of a jet ski combined with a go-kart, and even include a cooler with ice and bottled water. You'll follow the guide around the shores of southwestern Connecticut, and get quite the adrenaline rush when you kick the boat into high gear. To say the least, it will be an adventure and entirely new way to get in touch with the sea.
If you're bringing a larger group or just want to take a more relaxing retreat, then you'll want to opt for a Tiki Taxi Tour for $65 per person, or $350 for the entire boat. This is actually the perfect way to bring some tropical vibes to a bachelorette party, or just spice up the usual night out with your girls. You won't want to be looking at your phone much unless it's to take a few pictures. But, Capt. John and his team have you covered on that one, too!
What can you and your girl crew expect on the Tiki Tour?
So, what's this Tiki Tour really all about? Well, you can expect a complimentary Hawaiian lei upon arrival, beautiful views of skyscrapers and waterfront mansions, and even dance contests where you can win some prizes. The entire tour takes about 75 minutes, including a photo session. Let's be honest: You'll want to capture at least a couple candids for the 'Gram during your tropical getaway.
Although there's not a bar on board, as long as you're 21 or older, you can bring along your tequila sunrises or even a fruity beer to make this boat ride rather boozy. Personally, I'd suggest also packing some snacks on board, because you're bound to get hungry while watching the sunset.
The tours depart out of Harbor Point in Stamford, which is also an area full of restaurants, marinas, and even a beach boardwalk that would be worth checking out. Connecticut may not have been on your bucket list, especially if you're thinking of heading to somewhere tropical. But, after experiencing the Tiki Lounge, you'll want to continue your mini-vacation way past the mimosas and memories made with Capt. John's crew.
Why should you book this tropical escape ASAP?
Real talk: You've been putting off your wanderlust for far too long now. Yes, when work and your budget aren't necessarily allowing you to purchase plane tickets, it's sort of out of your hands. But, that doesn't mean you can't gather your girls and go on a getaway that's closer to home. You'll be wearing a lei and sipping on something sweet with your besties by your side. Does it even matter that you're trading the typical tropical destinations for cute beach towns on the East Coast? You know what Kenny Chesney says, after all: "No shoes, no shirt, no problems."