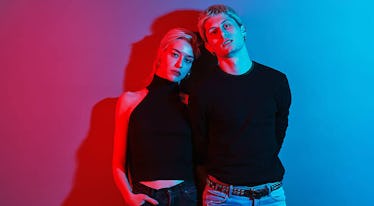 Here's How Experts Suggest You Put The Brakes On A Relationship That's Going Too Fast
As someone who really prefers taking things slow early on in a relationship, being rushed or pushed is a huge turn off for me. That kind of pressure freaks me out and makes me lose interest quickly. There have been times when I really liked the person, but I needed them to relax, back off, and let me get there on my own time. In those cases, it was important to know how to slow down a relationship in a way that communicated that I really needed them to pump the brakes, but also that, if they did, we had a much better chance of actually taking things to the next level.
Finding that delicate balance is not always easy, and I definitely haven't always been successful. Which is why, if you're currently in a similar situation, expert opinion might be just what you need. So, I reached out to Chris Armstrong, the founder of the relationship coaching company Maze of Love, and Grace Lee, co-founder of A Good First Date Online, for their advice on how to slow things down in a relationship that's just moving too quickly for your comfort — because yes, you absolutely have the right to set the pace that feels good to you. Here's is what they had to say.