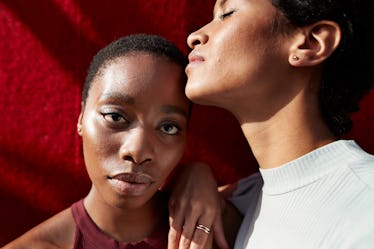 Here's How To Build Confidence Before A Big Talk With Your Partner
Klaus Vedfelt/DigitalVision/Getty Images
You're probably familiar with the anxiety that comes when you and your partner need to have a deep, serious conversation. Whether it's about something they did that bothered you, or a touchy subject they don't love talking about, you have the right to communicate your feelings. But ripping off the Band-Aid and bringing up your concerns is no easy feat, which is why taking steps to build confidence before a big talk with your partner can be so helpful in making it go smoothly.
According to sex and relationships therapist Dr. Lauren Fogel Mersy, it's perfectly normal to worry about conversations snowballing into arguments. And when the talk you need to have is one you've had several times, it's easy to feel like your relationship is on the rocks. "We get nervous because we know the issue is a perpetual problem in the relationship," Mersy tells Elite Daily. "[It] means it's a result of differences between two people, which is unlikely to get resolved or go away." The fear of offending your partner with your point of view might also be making you nervous to have this conversation, even though that is probably not your intention.
Ultimately, you don't have to sacrifice your peace of mind in order to express your feelings. Here are some methods that can help up your confidence before a big talk with your partner.