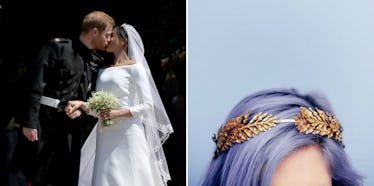 5 Attainable Ways To Live Like A Royal In Your 20s, So You Can Channel Meghan Markle
The royal wedding may be over, but I'm still in that regal state of mind. On the morning of the main event, I woke up bright and early to watch the Duke and Duchess of Sussex say "I do." It was the most magical moment of the decade, in my personal opinion, and the world was full of romance. We watched the couple ride around Windsor Castle in a horse-drawn carriage, and kiss on the steps surrounded by beautiful flowers. Let's talk about how to live like a royal so that you can channel Meghan Markle and all her regal vibes from this past weekend now and for happily ever after.
Up until this point, some of us have taken all of our lessons on how to be a royal from Julie Andrews and The Princess Diaries. We were taught not to slouch, and perfected our waves and fanning techniques. Something tells me there's a lot more to being royalty than mattress surfing and walking in parades, though. Looking to a modern day woman like Meghan Markle is key to turning your 20s into a fairytale.
Now, where shall we begin? Do we go out and just buy a tiara, or find a castle to call our own? These five things will let you live like Meghan Markle, and basically be a royal, too.