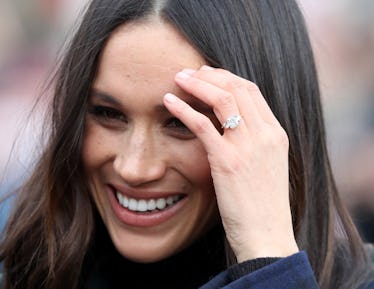 5 Meghan Markle Engagement Ring Replicas, Because We All Want Some Fairy Tale Bling
Chris Jackson/Getty Images Entertainment/Getty Images
The ring Prince Harry gave Meghan Markle is seriously dreamy. It's exactly the kind of ring you'd expect for a fairy tale wedding. Meghan Markle is one lucky gal, and now, we get to see this couple tie the knot, as the royal wedding is finally here. On Saturday, May 19, Prince Harry and Meghan Markle will say, "I do," and some gals in relationships would probably love to say "yes" to these Meghan Markle engagement ring replicas.
I don't know about you, but this whole royal wedding frenzy has forced me to take a deep dive back into my dreamy wedding Pinterest boards, and I'm adding that ring to my collection. We might not be able to afford the same ring as Markle, but one can dream. According to Town And Country, the gorgeous ring was designed by Prince Harry himself, and it includes stones from his mother's jewelry collection in addition to a diamond from Botswana. How romantic is that?
These six engagement rings that will definitely make you do a double take, because they resemble Meghan Markle's design a bit.
Now, let's take one last look at the real engagement ring Prince Harry gave to his beautiful bride-to-be.
Maybe you need a closer look at this stunner, so here it is again.
Alright, now that we have that gorgeous ring in our minds, we're ready to find some bling for ourselves. We may not be marrying an actual prince, but we all still deserve our own prince to make us feel like a true princess with a ring that glistens so perfectly.