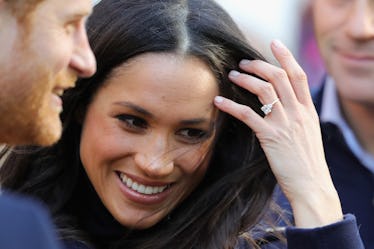 5 Stunning Engagement Rings That Look Just Like Meghan Markle's But Cost Way Less
Christopher Furlong/Getty Images Entertainment/Getty Images
So, um. I don't know if you've heard, but there's this wedding coming up that's kind of a big deal? I'll catch you up: American angel Meghan Markle is set to marry Prince Harry (yes, that one!) in just a few weeks, at which point their whirlwind engagement will come to a spectacular close at St. George's Chapel in Windsor. And while you might be bummed to hear that Prince Harry's off the market, there's no reason why you can't recreate a few aspects of their royal romance — like snagging one of these engagement rings like Meghan Markle's.
Her dazzling ring was designed by the Prince of Wales himself, and created by court jeweller Cleave&Co., The Telegraph reports. It features three stunning diamonds, perfectly set on a yellow gold band. The center stone is a cushion-cut diamond sourced from Botswana, where the couple camped out for their third-ever date (you know, as one does) and later traveled to celebrate Markle's 36th birthday. The two smaller stones on either side were diamonds taken from Princess Diana's personal jewelry collection, as a tribute to Harry's late mother and the People's Princess.
As Harry explained in the couple's engagement interview last November:
The ring is obviously yellow gold, because that's her favorite. And the main stone itself I sourced from Botswana. And the little diamonds either side are from my mother's jewelry collection, to make sure that she's with us on this crazy journey together.... So make sure it stays on the finger.
"It's beautiful, and he designed it, it's incredible," Ms. Markle then shared.
I'm not crying, you're crying!
It's valued at approximately $350,000, as reported by TIME magazine. But, given the emotional and historical significance of this particular ring, I'd say it's pretty priceless.
While the ring itself is impossible to duplicate — unless you've also got access to Princess Di's jewelry box (in which case like, yes, hello, please share?) — it's totally possible to find a similar ring. One that, you know, doesn't cost an arm, leg, and a few commoners' kidneys to purchase.
Here's a look at five engagement rings that are shockingly similar to Meghan Markle's — even for brides-to-be who might not have a royal budget.
This Beaut From Etsy
Starting at around $2,236, the aptly titled "Meghan Ring" is perfect for admirers of Ms. Markle's one-of-a-kind ice at a literal fraction of the cost. To quote the Etsy boutique behind this design, "It may or may not look quite like our own sexy version of Meghan Markle's engagement ring."
This Gorgeous Rose Gold Number by Anna Sheffield
If rose gold is more your style, please allow me to introduce you to the Bea Three Stone Ring, designed by New York bridal retailer (and "non-traditional fine jewelry" creators) Anna Sheffield. It's a fun twist on Markle's gems.
The 'Felicity' By Taylor & Hart
While the stones on this ring are narrower than Ms. Markle's, I'd argue they're equally dazzling. With a three-stone setting flanked by seven smaller stones on either side, this ring from leading London jeweler Taylor & Hart is £1,830 (or about $2,547), and it's positively smashing, if I do say so myself.
This Peachy, Pink Sapphire Dream
If you and your fiancé are on a tighter budget, or wanted to add a splash of color to your engagement ring, this morganite and pink sapphire ring is perfect for you. With a pink sapphire at the center, and an art deco smattering of surrounding morganite stones, it's got a totally regal vibe with a little vintage flair. Though it rings in (get it, rings in!) at under $1,000, everyone will still be drooling over this baby, just as the world's been drooling over Meghan Markle's. That three-stone setting is a classic for a reason.
PS: It's available in yellow, rose, and white gold — depending on which is your favorite.
Finally, The 'Forever One'
Last but not least, the "Forever One" ring is set in rose gold, of course featuring three stunning Moissanite stones (created by jewelers Charles & Colvard). And my GOSH, it's so shiny!
Oh, and by the way, I wouldn't hate if someone popped the question — or, well, any question — to me with one of the rings above. Just, in case you were wondering. My ring size is seven. TYSM.