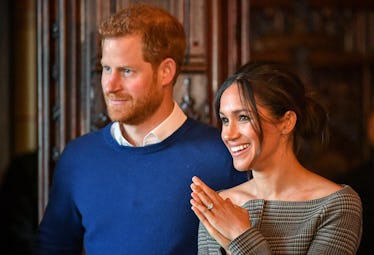 These Quotes From Prince Harry About Meghan Markle Will Make You Believe In True Love
WPA Pool/Getty Images Entertainment/Getty Images
The whole world is waiting with bated breath for Prince Harry and Meghan Markle to finally get married. The two love birds, who are slated to tie the knot on May 19, have charmed the socks off of pretty much everyone. And if their public displays of love and admiration are any indication, they've done the same to each other as well. The pair have nothing but lovely things to say about each other whenever they're asked, especially Prince Harry. In fact, so many of Prince Harry's quotes about Meghan Markle will make genuinely make you believe that true love does exist.
For example, when Prince Harry talked about how he and Markle met, he was strikingly honest about how little he knew about her:
I'd never watched Suits, I'd never heard of Meghan before. And I was beautifully surprised when I walked into that room and saw her and there she was sitting there. I was like, 'Okay, well I'm going to have to really up my game here. And sit down and make sure I've got a good chat.'
Clearly, she was the apple of his eye right from the start. And he was pretty intent on wooing her, as he detailed in their engagement interview in November 2017:
We had two dates in London last July, and it was I think about three, maybe four weeks later that I managed to persuade her to come and join me in Botswana, and we camped out with each other under the stars. She came and joined me for five days out there, which was absolutely fantastic.
He also gushed about Markle's incredible ability to charm the family's corgis:
The corgis took to her straight away ... I spent the last 33 years being barked at; this one walks in, absolutely nothing!
This is the cutest couple ever. That quote alone seals it!
But becoming part of the Royal family isn't just about traveling to Botswana and wooing corgis. There are some serious things to consider as well, which Prince Harry was very keen to shed light on:
I know that I'm in love with this girl and I hope that she's in love with me. But we still had to sit down on the sofa and have some pretty frank conversations with her to say, 'What you're letting yourself in for, it's a big deal. It's not easy for anybody.' I know that at the end of the day, she chooses me, and I choose her. And therefore, whatever we have to tackle together, or individually, it'll always be us together as a team.
So, once the dust settled and Markle assured Prince Harry she was ready to take the big leap into marriage, he proposed, of course. Here's how he did it:
It was here at our cottage. It was a standard, typical night for us. It was a nice moment, it was the two of us. I think I managed to catch her by surprise as well.
But Meghan was so excited that she interrupted him:
She wouldn't let me finish. There were hugs and I had the ring in my hand and I was like, 'Can I give you the ring now?' and she said, 'Oh yes, the ring!'
Prince Harry is also fairly certain that his late mother, Princess Diana, would have loved Markle:
They'd be thick as thieves, without question. And she would be over the moon, jumping up and down, so excited for me.
Clearly, this was a match made in paradise. Prince Harry seems head over heels in love with Markle. Can't wait until they make it official!