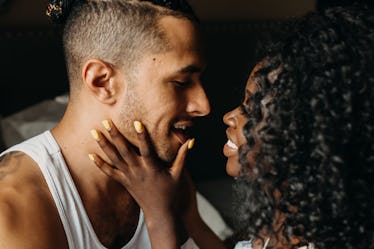 3 Signs You & Your Partner Are On Fire In The Bedroom, According To Sexperts
Intense sexual chemistry is one of those things that separates good connections from amazing ones. Even though it might not be the single most important aspect of a relationship, there's no denying that it can play a big role in the sexual satisfaction of two people. How to know if you have sexual chemistry with someone is luckily not that hard to figure out. Unfortunately, Hollywood and porn have set some super-sized and oftentimes unrealistic expectations when it comes to what sexual chemistry looks like and how it works. Thankfully, experts on the subject are setting the record straight on what it means to have sexual chemistry and how you can tell if it's there.
"Some people are matches from the onset, and others take time to develop sexual chemistry," Dr. Jessica O'Reilly, host of the @SexWithDrJess podcast told Elite Daily. "In general, great lovers are made — not born. Almost anyone can learn to perform a specific technique, talk in a tone or language that turns you on or approach you in a way that excites you."
So now that we know that sexual chemistry isn't always there from the beginning and that this doesn't necessarily mean it can't be developed, here are some ways you can tell if things are on fire, or if there is a bit more work to be done.