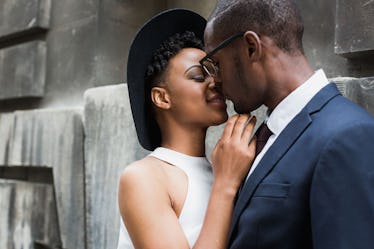 This Is How Many Hookups It Takes To Know If You Have Sexual Chemistry, Experts Say
Has this ever happened to you? You're seeing someone new and the two of you are clicking on all levels. They make you laugh and are super attractive. The sexual tension is fire. However, when you finally make your way to the bedroom for some grown folks fun time, you discover all that piping hot chemistry you had outside the bedroom seems to have left the building. Such a bummer. The question is, was that a one-off? How do you know if you have sexual chemistry? Shouldn't you know right away if it's just not there? I mean, to be fair, the first time is always a little bit awkward, so I guess it makes sense to hope that the next time would be better. But what if round two is still a bust? At this point, the question becomes — if you really like everything else about this person — exactly how many times do you hook up with them before you just declare it a sexual chemistry fail and move on?
Listen, Nobody wants to have disappointing, unsatisfying, or just plain awful sex. But if I really like someone, I want to know I really tried. So, to help clear things up, I reached out to Dr. Jessica O'Reilly, host of the @SexWithDrJess Podcast, for her advice on what to do in this situation. Here's what she had to say.