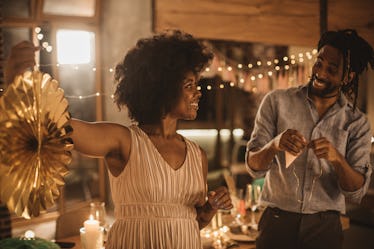 Here's How To Have A Backyard Cinderella Ball With Your SO This Halloween
svetikd/E+/Getty Images
Halloween at home with your partner can still be a dream come true. This year, consider celebrating All Hallow's Eve with a romantic date night under the twinkling stars with a Cinderella-themed ball. Since this is brand new territory (and you don't have a fairy godmother to call upon), you'll need to know how to have a Cinderella ball in your backyard for Halloween on your own.
When you think of Cinderella, pumpkins, glass slippers, and dancing the night away likely come to mind. All of that is invited to the party. You just need to know how to showcase it all in a fun and Insta-worthy way. It's time to dust off that stunning gown you've been waiting to wear again and curate a playlist that will make you want to slow dance the evening away with the love of your life. Pop some champagne (if you're 21 or up) and make your backyard sparkle like you're in a real-life fairy tale.
Your goal is to make this Halloween at home a real dream come true, so follow these 10 steps to "bibbidi-bobbidi-boo" it all into place for a Cinderella ball in your backyard. The best part of all is that the fun doesn't even have to stop at midnight.