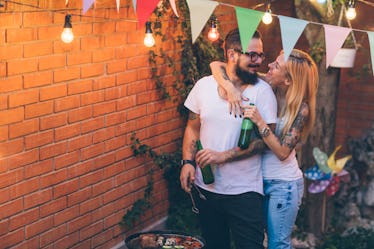 10 Backyard BBQ Date Ideas That Are Oh-So Barbe-cute For Instagram
vgajic/E+/Getty Images
Burgers, grilling, and drinks — oh my! Your backyard barbecue doesn't have to be so predictable. If you and your partner are thrilling for grilling, you just need to know how to upgrade your backyard barbecue to make it extra special. A little creativity goes a long way when it comes to lighting up date night and firing up the grill.
Of course, coming up with fresh ideas on the fly for the same old plans can be easier said than done. But, we've come up with ways to make your backyard barbecue unlike any you've ever experienced. For example, instead of grilling up your typical burgers and hot dogs, try grilled salmon or Mexican-style street corn. You should also go the extra mile in decorating your backyard space. Look to Pinterest for some inspo when you're setting the table. You can even switch up your usual summer songs playlist for something more romantic.
It's still BBQ night; you're just adding a bit more flavor to the mix to create something magical. If you still need a little help putting it all together, these 10 backyard barbecue ideas will hopefully help inspire you to try something new that'll make this summer really shine.