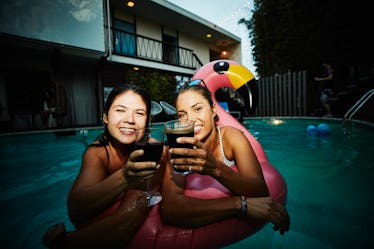 12 Backyard Dates To Plan Under The Stars That Are Totally Dreamy
Thomas Barwick/DigitalVision/Getty Images
Right in your own backyard is the most underrated spot of your home, and if you lay out a picnic blanket with your partner, you'll instantly understand why. There's nothing quite as cozy and romantic as these backyard date ideas under the stars or spending quality time with your love.
You don't even have to be an "outdoorsy" couple to adore the bliss of the constellations lighting up the night sky and the wonderful smell of a fire burning in a nearby pit. When you stick a marshmallow on a metal stick and begin to roast it to your liking, you'll be whisked off your feet and in total awe of the space and person you get to call yours. Honestly, you'll likely feel like you're in a movie as you jump into the pool and kiss your SO while floating in the deep end, or while you play corn hole and let your competitive sides shine.
By the end of your date night, you'll be saying to your love, "Let's do this again." Good news: There's still plenty of time to recreate these backyard date ideas and have a romantic night under the stars. Start at the top of the list and work your way down.